business
Hammond Says BOE Should Be First Line of Defense for Economy
By
Says BOE likely to announce 'monetary package' in due course

Bank of England officials signaled stimulus may come in August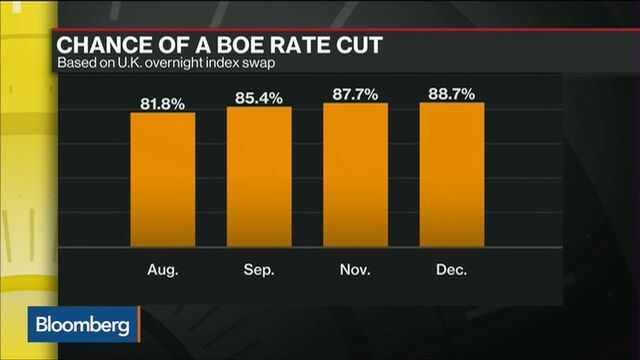 Britain's new Chancellor of the Exchequer said the Treasury is coordinating with the Bank of England and monetary policy is the first line of defense for the Brexit-rattled economy.
"I will work closely with the Bank of England to provide immediate stability and to maintain confidence in the fundamental health of the U.K. economy as we prepare for the Autumn Statement," Philip Hammond told lawmakers in London on Tuesday. "The initial response to this kind of a shock must be a monetary response delivered by the Bank of England."

Policy makers are seeking to support an economy reeling from the U.K.'s decision to split from the European Union. While BOE Governor Mark Carney has taken a proactive approach since the June 23 outcome -- loosening rules for lenders and offering extra liquidity -- the central bank surprised markets last week by keeping its benchmark rate unchanged and signaling any stimulus will come in August.
Signs of close integration between monetary and fiscal policies had already emerged, with Prime Minister Theresa May pledging to abandon former Chancellor George Osborne's goal of achieving a budget surplus by 2020. Hammond must now decide how best to stimulate an economy at risk of sliding into recession, though he said any fiscal action won't be announced until later in the year.
August Meeting
BOE officials have so far stopped short of detailing what they might unveil on Aug. 4, with Gertjan Vlieghe and Chief Economist Andy Haldane signaling they'd back a package of measures. By contrast, Martin Weale said he needs to see harder evidence before voting for stimulus next month.
Traders are pricing in an 81 percent change of a rate cut in August and many of the other policy tools at the bank's disposal -- like an extension of its Funding for Lending Scheme -- require cooperation with the Treasury.
"The governor, in announcing that interest rates were not to be lowered last week, did make it clear that the bank is developing a monetary package that it will announce in due course," Hammond said.
— With assistance by Joe Mayes
Before it's here, it's on the Bloomberg Terminal.
LEARN MORE