Fox Negotiating Exit Terms With News Chief Ailes
by
Talks follow filing of sex harassment case against executive

Fox News Channel is profit leader for parent 21st Century Fox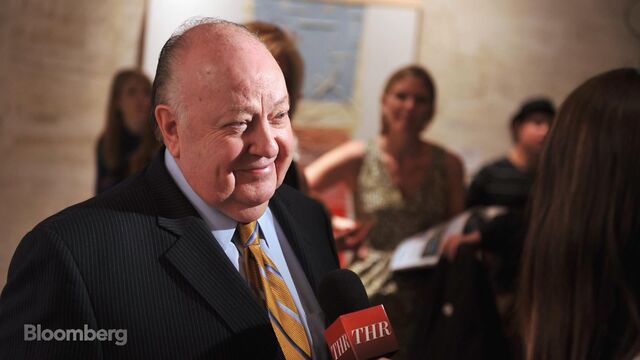 Roger Ailes, the Republican political strategist who built Fox News Channel into the most-watched U.S. cable news network, is in negotiations to leave his job following accusations of sexual harassment, according to a person with knowledge of the matter.
21st Century Fox Inc., the parent of the network, is discussing possible exit terms for the 20-year company veteran, said the person, who asked not to be identified because of the sensitive nature of the talks.
Cable News Ratings,
2016 prime time
Nightly Viewers,
in millions
Fox
2.20
CNN
1.16
MSNBC
0.89
Source: Nielsen
Ailes, 76, was sued for alleged sexual harassment earlier this month by former anchor Gretchen Carlson, who claimed she was fired for spurning his sexual advances and complaining about his conduct. The allegations led 21st Century Fox to begin an internal review. Her accusations were followed by claims of harassment from other women.
Signs of Ailes's imminent departure began to surface this week. New York Magazine reported Monday that management at 21st Century Fox, led by Co-Chairman Rupert Murdoch and his sons, Chief Executive Officer James and Co-Executive Chairman Lachlan, had concluded Ailes had to go even though an investigation of his alleged wrongdoing was still under way.
On Tuesday the magazine reported that Megyn Kelly, one of the network's top personalities, leveled similar accusations against Ailes that date back 10 years. The company is investigating the allegations against Ailes in a probe being led by the law firm of Paul Weiss Rifkind Wharton & Garrison LLP.
In a statement, 21st Century Fox said Ailes was at work and the review ongoing. The only agreement in place is his employment agreement, the company said in an e-mail.
Representatives for Kelly didn't respond to an e-mailed request for comment, while an attorney for Ailes, Susan Estrich of Quinn Emanuel Urquhart & Sullivan LLP, told the Hollywood Reporter that said her client denies harassing Kelly. Lauren Nussbaum, a spokeswoman for Paul Weiss, declined to comment.
Fallout for Fox
The events mark a stunning fall for a giant in TV news. Ailes was a media consultant to three U.S. presidents, Richard Nixon, Ronald Reagan and George H.W. Bush, before joining media mogul Rupert Murdoch to create the Fox News Channel in 1996. Within six years, their mix of news and conservative commentary combined to topple CNN as the most popular 24-hour news channel.
Any change of leadership at Fox News Channel will be of concern to investors. The company's cable networks, led by the news network, accounted for as much as half of 21st Century Fox's revenue last year and more than two-thirds of operating income.
Paul Sweeney, a Bloomberg Intelligence analyst, estimates the Fox News Channel accounts for up to 25 percent of profit at 21st Century Fox, which also operates a broadcast network, TV stations and a film studio. The news network is expected to generate a 64 percent profit margin this year before interest, taxes, depreciation and amortization, compared with 52 percent for CNN and 47 percent at Comcast Corp.'s CNBC, Sweeney said.
"Those will be tough shoes for anyone to fill," Sweeney said.
News Coverage
The toppling of Ailes could also signal a shift in coverage at the channel, a powerful voice in U.S. politics with commentators such as Sean Hannity and Bill O'Reilly. Three Fox News personalities, including Hannity, O'Reilly and Greta Van Susteren, have contracts that allow them to leave if Ailes departs, the Financial Times reported Tuesday, citing people briefed on the matter.
Ailes started Fox News at the behest of Murdoch, creating an alternative to more liberal competitors. While Fox News has been criticized for its partisan programming, it has used controversies such as the fight between anchor Megyn Kelly and presumptive nominee Donald Trump to build ratings.
The network has been buoyed by record audiences during the U.S. election years, momentum that's expected to continue with the presidential candidacy of Trump, a real estate mogul and TV host. This year, Fox News is leading all basic cable channels in prime-time and total-day viewership for the first time in the network's history. Fox averaged 2.20 million viewers a night in prime time this year, compared with 1.16 million for Time Warner Inc.'s CNN and 887,000 for Comcast Corp.'s MSNBC
Before it's here, it's on the Bloomberg Terminal.
LEARN MORE