Ex-UBS Trader Barred From Banking for Currency Rigging
by and
Gardiner said to help build criminal cases against traders

Penalty imposed by Fed is first against a trader in probe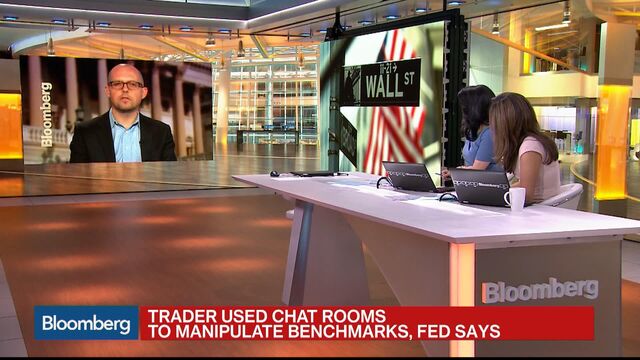 The U.S. Federal Reserve banned former UBS Group AG trader Matthew Gardiner from the banking industry for life for rigging currency benchmarks, the first U.S. penalty against an individual in the three-year investigation.
Gardiner used electronic chat rooms to facilitate the manipulation of foreign exchange benchmarks and to disclose confidential customer information to traders at other banks, the Fed said in a statement Tuesday.
Gardiner has been helping U.S. prosecutors who are trying to build currency-rigging cases against individuals, two people familiar with the matter told Bloomberg News in April. He hasn't been publicly charged and it isn't clear if he has been granted immunity for cooperation. A lawyer for Gardiner didn't immediately respond to an e-mail seeking comment.
Bloomberg reported in April that U.S. officials were on track to charge individuals over currency-rate manipulation as soon as this summer.
In recent years, the Fed has become aggressive in attempting to punish individuals for misconduct. Last year, for example, it barred an employee of Goldman Sachs Group Inc. for stealing market information and five employees of Credit Suisse Group AG for helping clients evade taxes.
Bank Fines
When the agency fined six banks in 2015 for currency rigging, the regulator said that the lenders had to cooperate in the investigation against employees and "is prohibiting the organizations from re-employing or otherwise engaging individuals who were involved in unsafe and unsound conduct."
Gardiner participated in The Cartel instant-messaging group, which was at the heart of guilty pleas the U.S. government wrung from five global banks last year, people familiar have told Bloomberg News.
To read about how currency traders used chat rooms to share client trading data, click here.
Announcing the bank convictions in May 2015, the U.S. said traders working for the institutions -- UBS, JPMorgan Chase & Co., Citigroup Inc., Royal Bank of Scotland Group Plc and Barclays Plc -- had conspired to fix currency benchmarks using the instant-messaging group, which participants also referred to as The Mafia.
The Fed brought enforcement actions over currency manipulation in 2015 against UBS and Barclays Plc, where Gardiner also previously worked. Those actions resulted in UBS and Barclays paying a total of $684 million in penalties, the Fed said.
Before it's here, it's on the Bloomberg Terminal.
LEARN MORE