EU Stance in Italian Bank Bail-In Talks Boosted by Top Court
by
Decision is show of support for EU system of 'bail-in'

Comes as Italy and EU seek solution on investor burden-sharing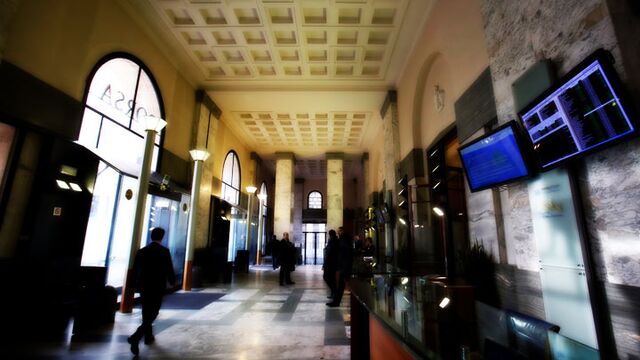 The European Union's top court backed EU guidelines designed to prevent taxpayers from footing the bill for bailing out stricken lenders, strengthening the hand of Brussels regulators as Italy fights to shield some bondholders caught up in the nation's banking crisis.
Tuesday's decision is a show of support for the European Commission, which updated its crisis rules for banks in 2013 as part of a shift from taxpayer-funded bailouts to bail-in, the practice of imposing possible losses on investors before public money can flow.
"Burden-sharing by shareholders and subordinated creditors as a prerequisite for the authorization, by the commission, of state aid to a bank with a shortfall is not contrary to EU law," according to the EU Court of Justice. The Luxembourg-based court's decision is binding and can't be appealed.
The "banking communication" sets out rules for when burden-sharing should be applied to shareholders and subordinated creditors, and when it can be avoided. The court said that "burden-sharing measures can be understood as being designed to prevent recourse to state aid merely as a tool to overcome the financial difficulties of the banks concerned."
Italian Banks
Bail-in has been much discussed in recent weeks as the Italian government tries to find a way to recapitalize some of the country's banks, including Banca Monte dei Paschi di Siena SpA. It's a thorny issue for Prime Minister Matteo Renzi because many subordinated bondholders are ordinary families who bought the securities looking for a better rate of return. With a referendum to overhaul the political system expected in October, Renzi is looking for a solution that saves banks and spares voters.
Italian banks dropped after the ruling with Banca Monte dei Paschi declining as much as 7.1 percent. UniCredit SpA slipped 0.3 percent in Milan, while Intesa Sanpaolo SpA decreased 0.6 percent, recovering from earlier lows.
Monte Paschi's 379 million euros ($418 million) of 5.6 percent subordinated bonds fell 3 cents to 72 cents on Tuesday, according to data compiled by Bloomberg. They are down about 20 cents this month as attempts to recapitalize the country's frail lenders raise the prospect that junior creditors could face losses.
EU-Italy Talks
The European Commission, which checks whether state aid violates EU rules, said the ruling "confirms the commission's current case practice and application of EU state aid rules to the banking sector."
The decision "is important because it says that doing things this way will minimize the cost for taxpayers and it will not disturb competition as much as it otherwise may do," EU Competition Commissioner Margrethe Vestager told reporters in Brussels.
The ruling won't change the EU's talks with the Italian government, she said, adding that an agreement with Italy on how to aid banks may be "quite close."
Not Automatic
While the banking communication makes clear that burden sharing is normal practice in bank state-aid cases, it's not mandatory. The rules also provide an exception when imposing bail-in would endanger financial stability or lead to disproportionate results.
The court confirmed that the commission "should, of course if there are exceptional circumstances, take that into consideration," Vestager said.
The fact that the court underscored that bail-in is not automatic may still give Italy leeway in discussions with the commission, according to some analysts.
"This may open an interesting negotiation window for Renzi to push for the comprehensive recapitalization package the Italian banks need," said Philippe Bodereau, the global head of financial research at Pacific Investment Management Co.
Jacopo Ceccatelli, the head of Milan broker-dealer Marzotto SIM SpA, said the ruling might not be a serious obstacle in Italy's attempts to get a green light from the EU for a bank-rescue plan.
"The EU Court ruling is a bit of this and a bit of that, it's just quoting the bail-in regime clause" which allows for burden sharing, Ceccatelli said in an interview.
The markets should pay attention to the ruling, which "could have a read-across for others such as the Italian and Portuguese banking systems," Morgan Stanley currency strategists said in a report to clients.
Junior Debt
Tuesday's case was triggered by a group of junior debt holders who want to recoup their losses from Slovenia's move in December 2013 to recapitalize its mostly state-owned banks with 3.2 billion euros of taxpayers' money to avoid the fate of Greece and Ireland in seeking an international bailout.
At the same time, some 600 million euros worth of subordinated debt was also wiped-out from these banks. The government of then Prime Minister Alenka Bratusek and the central bank governor Bostjan Jazbec said at the time they acted in line with EU state-aid rules.
In 2014, a Slovenian court sought the EU tribunal's guidance on whether the commission's banking communication is valid and whether the regulator can require burden-sharing as a condition for state aid to be granted in times of crisis.
'Broad Discretion'
In a non-binding opinion in February, Nils Wahl, an advocate general at the EU court, backed the commission, saying it "enjoys broad discretion in assessing" the validity of state aid."
Watch Next: 'Toxic' Italy Could Pull Europe Down, Warns Fratzscher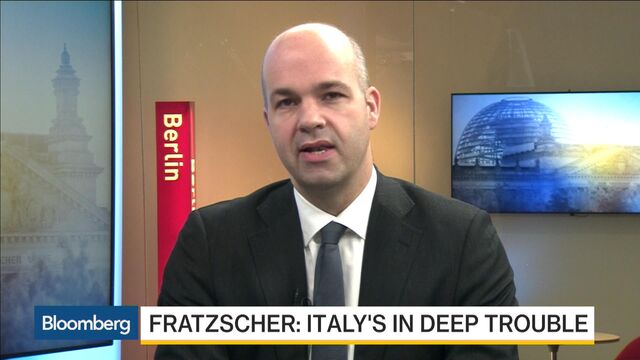 "It is important to note that under EU law the commission is the sole arbiter of the compatibility of state aid with EU law requirements," said Totis Kotsonis, a competition lawyer at Eversheds in London.
"The court's judgment now confirms" that the idea of bail-in "is compatible with EU law requirements, providing much-needed comfort and clarity to member states."
The case is: C-526/14, Kotnik and Others.
Before it's here, it's on the Bloomberg Terminal.
LEARN MORE