U.K. Hedge-Fund Brexit Concerns Eased by EU Access Opinion
by and
ESMA supports passports for Canada, Jersey, Switzerland funds

Backing is 'probably positive' for U.K. funds facing EU exit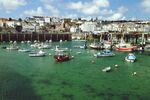 A European Union regulatory opinion may ease concerns about whether a U.K. exit from the trade bloc will hinder market access for the nation's $922 billion alternative investment industry.
Hedge funds and private equity firms based in some overseas markets should be allowed to operate across the EU using a single so-called passport that will be introduced under a directive coming into force in 2018, the European Securities and Markets Authority said in a statement. The guidance may give encouragement about post-Brexit access for funds in the U.K., which oversee about 85 percent of Europe's hedge-fund assets, based on estimates from industry group TheCityUK.
"This is probably positive for the U.K.," said Sean Tuffy, senior vice president and head of regulatory intelligence at Brown Brothers Harriman, which manages $54 billion. "Assuming there's no bonfire of regulations in Westminster, then the U.K. would already have an equivalent regime."
ESMA said a review of local regulations showed "no significant obstacles" preventing hedge funds and private equity firms based in Canada, Guernsey, Japan, Jersey and Switzerland from being awarded passports in the EU. The Paris-based regulator also backed passports for some types of U.S. funds. It delayed opinions on Bermuda and the Cayman Islands, pending new rules in these nations.
Single Market
The passports are part of the Alternative Investment Fund Managers Directive, which is intended to help create a single European market for financial services. Whether a fund qualifies will largely depend upon the regulations in its home market. The European Commission said it will consider ESMA's recommendations.
The advisory also bodes well for other parts of the U.K. financial services industry seeking to operate in the EU after Brexit, said Lisa Cawley, a partner at law firm Kirkland & Ellis in London. 
"Fundraising for alternative funds is a niche of financial services, but ESMA's opinion is an encouraging noise for other areas," she said.
ESMA generally backed awarding passports to firms based in Hong Kong and Singapore, while noting discrepancies in how accessible funds are for investors in different European countries. It also said Australian firms should get passports, provided the nation standardizes its treatment of European funds. The regulator didn't give an opinion on the Isle of Man because the island doesn't have a investment regime comparable to the EU directive.
The Alternative Investment Management Association, whose members manage more than $1.5 trillion globally, said it welcomed the report and that it was optimistic that regulators in the U.S., Hong Kong, Singapore and Australia would quickly be able to resolve the issues highlighted in the report.
Before it's here, it's on the Bloomberg Terminal.
LEARN MORE