Emerging-Market Stocks Halt Eight-Day Advance as Currencies Drop
by and
Chinese stocks slump in Hong Kong trading as valuations peak

Turkish lira weakens as overnight lending rate cut to 8.75%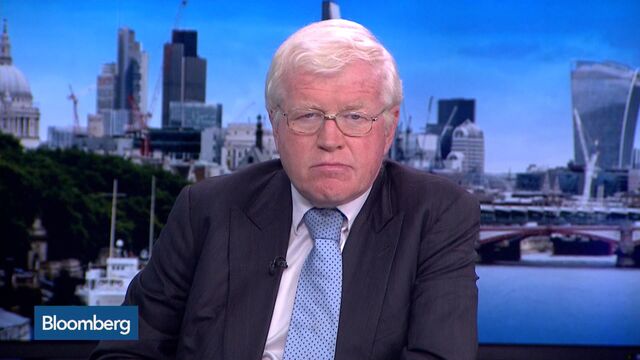 Emerging-market stocks fell for the first time in nine days on speculation the recent gains were overdone after prices climbed to their highest since November. Currencies weakened as the International Monetary Fund scrapped its forecast for a pickup in global growth this year.
Hong Kong-traded Chinese stocks fell as valuations reached a peak for the year. Russian stocks slid to a one-week low as Brent crude extended declines into a second day. Shares in South Africa fell the most since July 6 and the rand weakened as commodity prices slumped. The Turkish lira fell after the central bank cut the overnight lending rate. The premium investors demand to hold developing market debt over U.S. Treasuries widened for a second day.
Speculation that central banks from Asia to Europe will act to stimulate their economies after concern that the U.K. vote last month to leave the European Union will undermine global growth helped fuel the longest winning streak in developing-nation equities since April. A gauge of momentum in MSCI's emerging-market stock benchmark, known as the relative strength index, or RSI, reached 67 this week, approaching a level that frequently precedes a decline. The IMF said that "the real effects of Brexit" will unfold gradually.
'Breaking Out'
"What we are seeing today is possibly just a pause for breath as from a technical point of view, it looks like emerging markets are breaking out," said Tony Hann, the London-based head of equities at Blackfriars Asset Management, referring to the RSI. "Economic growth continues apace in Asia and sentiment on the Fed swings toward a more accommodative stance," said Hann, who favors stocks in India, Thailand and the Philippines.
The MSCI Emerging Markets Index slipped 0.2 percent to 868.12, breaking its longest winning streak since April. The IMF sees global gross domestic product rising 3.1 percent this year, down from April's 3.2 percent projection and equal to growth in 2015, according to the fund's quarterly World Economic Outlook, released Tuesday in Washington.



Eight out of 10 industry groups declined in the MSCI Emerging Markets Index, led by losses in energy shares, after the gauge rose 6.2 percent in the previous eight trading sessions. It is valued at 12.3 times estimated 12-month earnings, trading near the highest multiple since May 2015. The Bloomberg Commodity Index slipped 0.9 percent.
Gazprom PJSC slid 4.4 percent in Moscow, weighing on Russia's Micex Index, which lost 1 percent in its third day of declines. Brent crude slid 0.6 percent to $46.66 a barrel. The Ibovespa rose 0.4 percent after Brazil's government delayed the announcement of the extent of budget freezes this year.
Turkish stocks declined 1 percent after plunging 7.1 percent on Monday, the most in more than a month, following an attempted military coup last Friday. Shares in South Africa dropped 0.3 percent. BHP Billiton Plc led declines with a 2.8 percent drop. 
The MSCI Emerging Markets Currency Index slid for a third day, dropping 0.1 percent as traders put the chance of an increase in U.S. interest rates by the Federal Reserve this year at 44 percent, up from 34 percent a week ago.
Lira Drops
The Turkish lira weakened 2.1 percent after policy makers slowed the pace of interest-rate cuts in the wake of the weekend coup attempt. The central bank lowered the overnight-lending rate by 25 basis points to 8.75 percent, in line with expectations. Policy makers cut the rate by 50 basis points at each of its last three meetings.
The Malaysian ringgit dropped 1 percent, as did the Brazilian real. The rand fell 0.6 percent versus the dollar, while the Mexican peso also weakened 0.7 percent.
The premium investors demand to own emerging-market debt over U.S. Treasuries rose for a second day, increasing three basis points to 355, according to JPMorgan Chase & Co. indexes.
The yield on Turkey's local five-year bonds rose 18 basis points to 9.77 percent. Similar-maturity Russian notes also fell with the yield rising four basis points to 8.82 percent.
Moody's Investors Service said Monday it would review Turkey's Baa3 credit rating, the lowest level above junk, to "assess the medium-term impact" of the failed coup on the country's growth and policy making institutions, according to a statement. If Turkey loses its investment-grade rating, Barclays Plc expects investors to dump $3.2 billion of Turkish bonds.
Before it's here, it's on the Bloomberg Terminal.
LEARN MORE