Canada Housing Agency Doesn't See Bubble in Toronto Condo Market
by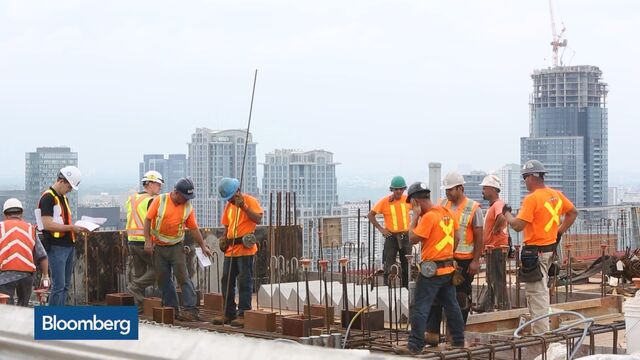 Developers now are making sure they reach a higher level of sales before they begin construction on Toronto condominium projects, contrary to the housing bubble that unfolded in the city in the 1980s, Canada Mortgage & Housing Corp. said.
Work began on 79 percent of condo buildings only after developers pre-sold at least 70 percent of the units, the Ottawa-based agency said in a report Tuesday. The 21 percent of towers that commenced construction before reaching the 70 percent threshold were usually smaller projects or built by well-known developers.
This approach "mitigates the risks associated with speculative building," Dana Senagama, a CMHC market analyst, wrote in the report. "A tight resale condo market and strong rental demand have helped to absorb some of the completed and unsold units."
Policy makers including Bank of Canada Governor Stephen Poloz have warned strong price gains in Toronto probably can't be sustained by economic fundamentals. The average home price in Canada's largest city, including apartments, townhomes and single-family houses rose 51 percent in the last five years to C$647,600 ($497,000) as of June, according to the Canadian Real Estate Association. The rise in condos alone was more subdued, with the price accelerating 24 percent to C$352,000 over that period.
Lenders typically require a 60 percent to 80 percent sales target be reached before providing financing a project, Senagama wrote. That compares to the bubble in the 1980s, which was "arguably fueled by huge speculative investment in the condominium property market," she said, adding anecdotal evidence suggests many of the projects started with low pre-construction sales thresholds.
Before it's here, it's on the Bloomberg Terminal.
LEARN MORE