BOJ Should Correct 'Big Lies' at July Meeting, Former Executive Says
By and
Hayakawa, who was chief economist, also sees more stimulus

Japan's prices falling again even with massive bond purchases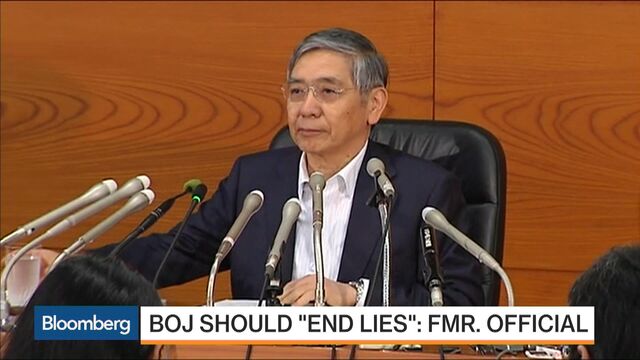 The Bank of Japan should add stimulus at its policy meeting next week and use that opportunity to correct "two big lies" about monetary policy, a former BOJ executive director said in an interview.
"It's a major problem that the BOJ has continued with two big lies," said Hideo Hayakawa, referring to the statements about unlimited policy space and achieving its inflation target in a time frame that has been repeatedly delayed. The BOJ should scrap its references to reaching 2 percent within about two years and also concede that it will have to start tapering bond purchases, he said.
Governor Haruhiko Kuroda said as recently as last month that having a time frame is important to show the BOJ's strong commitment to reaching the price goal soon, while in April he restated his view that his monetary policy doesn't face limits. The central bank declined to comment on Hayakawa's remarks.
The BOJ has repeatedly pushed back when it forecasts inflation reaching its target and prices have been falling since March, with little sign of improvement. With the BOJ already buying the equivalent of more than 90 percent of Japan's newly issued debt each year, many economists say there are physical limits on how many bonds it could buy.
"Getting to 2 percent is, I think, very unrealistic," Derek Halpenny, the London-based European head of global markets research at Bank of Tokyo-Mitsubishi UFJ Ltd, said on Bloomberg Television. "Is it a lie? I think it's a failure, perhaps."
Balance Sheet
Analysts at Goldman Sachs Group Inc. and JPMorgan Chase & Co. are among many in predicting additional easing later this month. The BOJ's bond purchases have seen its balance sheet to swell to more than 80 percent of Japan's gross domestic product, much larger than the equivalent 25 percent in the U.S.
"There is no way that markets will trust the BOJ if it remains bullish," Hayakawa, who retired in 2013, said in an interview on Tuesday. "Everybody knows that 2 percent inflation won't happen in a near future and that there is a limit for easing tools so I don't think acknowledging these facts will cause a big impact."
However, changing its commitments will be seen as "backing down" if it isn't accompanied by additional stimulus, Hayakawa said. Among easing options are expanding purchases of exchange traded-funds, a further cut in the negative interest rate applied to some funds parked at the BOJ and even offering negative rates in a loan support program, said Hayakawa.
Inflation Projection
The BOJ will probably cut its inflation forecast to around 1.3 percent for the fiscal year starting in April 2017, said Hayakawa, who was also former chief economist at the BOJ. The bank is currently projecting 1.7 percent for this period. Hayakawa's own view is that it won't go above 1 percent in fiscal 2017.
Japan's consumer prices excluding fresh food dropped 0.4 percent in May, and haven't risen this year. The 13 percent appreciation of the yen against the dollar in 2016 will cut into inflationary pressures by lowering import costs.
Hayakawa isn't the only former BOJ executive in calling for a more flexible policy stance. Kazuo Momma, whose time at the central bank overlapped with Hayakawa, said last month that the BOJ should drop its two-year time frame.
Board member Takahide Kiuchi, who dissents from the current stimulus program, has proposed aiming to reach the price target in the mid-long term.