BHP Says 2017 Iron Ore Output May Be Flat, Cuts Oil Spending
by
Fourth-quarter iron ore production fell 7% amid rail program

Raw materials prices remain about 50% lower than a 2011 peak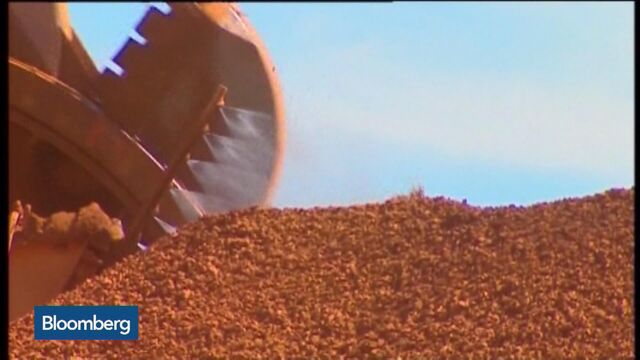 BHP Billiton Ltd., the world's biggest mining company, forecast that iron ore production could be flat this fiscal year, while it sees petroleum output declining as much as 17 percent and the prices of its top earning materials remaining volatile.
Capital spending on oil assets will plunge 44 percent to about $1.4 billion in the year, after petroleum output slumped 11 percent to 56 million barrels of oil equivalent in the three months ended June 30, Melbourne-based BHP said Wednesday in a statement. Iron ore production fell 7 percent to 55.6 million metric tons in the quarter.
The Bloomberg Commodity Index of returns on 22 raw materials remains about 50 percent from a 2011 peak as global economic growth struggles to rebound. Iron ore has slumped around 70 percent from a record in 2011, while crude oil is more than 60 percent lower than its 2012 top, prompting BHP in February to book pretax impairments of $7.2 billion against its U.S. shale assets.
"The whole thrust of their strategy is to batten down the hatches to some extent, to limit capital expenditure and to not do anything too adventurous that would be dependent on major price increases from current levels," Ric Spooner, chief market strategist at CMC Markets Asia Pty, said by phone from Sydney. "It's about grinding things out in what's a tough environment."

BHP shares slumped 2.9 percent to A$19.25 in Sydney, trimming its advance this year to 7.8 percent. The company said it expects to record additional one-time charges of as much as $175 million against full-year earnings related to inventory write downs, redundancies and impairments in its coal businesses.
Full-year petroleum production is forecast to decline to between 200 million and 210 million barrels of oil equivalent in the current fiscal year, from 240 million barrels this fiscal year after BHP cut rigs in its U.S. shale division to preserve cash. Iron ore output may remain flat or advance by as much as 4 percent to between 228 million tons to 237 million tons in fiscal 2017, it said.
Iron ore with 62 percent content delivered to Qingdao fell 1.5 percent to $56.02 a dry metric ton on Tuesday, according to Metal Bulletin Ltd. data. It touched $70.46 a ton on April 21, the highest since January 2015. Iron ore may drop to $40 a ton in the fourth quarter, according to Goldman Sachs Group Inc., while Morgan Stanley's outlook for the same period is $35.
Ore Mines
Total output from BHP's iron ore mines in Australia was 257 million metric ton in the 12 months ended June 30, from 254 million tons a year earlier. That missed the company's April forecast of production of 260 million tons and was in line with the median forecast among three analysts surveyed by Bloomberg.
A 24-month maintenance program along BHP's 1,300-kilometer long iron ore railroad in Australia is curbing some output as the producer prepares its infrastructure to support a potential expansion. The program will raise capacity to 290 million tons from fiscal 2019, BHP said in the statement.
Output at BHP's Samarco joint venture in Brazil is unlikely to restart this year after it was halted following November's deadly dam breach, the producer said last week. It said Wednesday it's not in a position to provide an update on the potential financial impact, which is expected to be classified as an exceptional item.
Shale Output
Production will fall this year in BHP's onshore U.S. shale division on cuts to capital expenditure and development activity made in response to lower oil prices, while output in conventional oil operations will be lower on field decline, BHP said in its statement.
"Over the next 12 months, we expect volumes and costs across our minerals businesses to benefit from our continued drive to safely improve productivity," Chief Executive Officer Andrew Mackenzie said in the statement. "We can create significant value through further cost reductions, taking advantage of latent capacity in our assets and investing
in low-capital projects."
Copper production declined 5 percent to 413,000 tons in the three months to June 30. That beat a median estimate of 383,300 tons among six analysts surveyed by Bloomberg.
Before it's here, it's on the Bloomberg Terminal.
LEARN MORE