Barclays Sees $3.2 Billion at Stake as Moody's Reviews Turkey
by
Moody's to review its investment-grade rating of Turkey

With downgrade, investors may shed $3.2b of Turkish eurobonds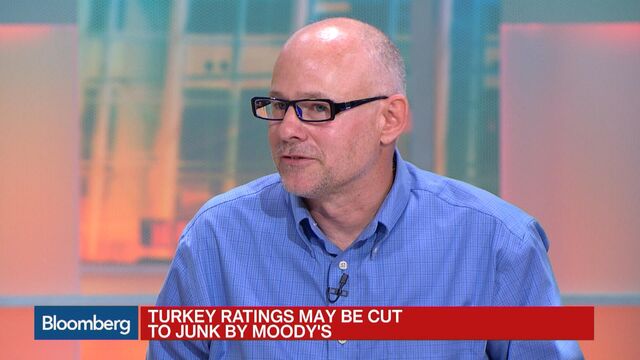 If Turkey loses its hard-won investment-grade rating, Barclays PLC expects investors to dump $3.2 billion of Turkish bonds.
That's the revised calculation from the bank's strategists in a report published on Monday, just before Moody's Investors Service put Turkey's debt on review for a downgrade as it assesses the fallout from Friday night's coup attempt. A downgrade would leave Turkey short of the two investment-grade ratings some investment funds require to buy the country's debt.
While a benign climate for emerging markets has contributed to what Barclays describes as an "orderly market reaction" to the coup attempt, it's also part of what makes the bank's estimation of the potential impact on Turkish portfolio flows so high. They revised the number up from $2.6 billion, saying the abundance of liquidity means funds have been steadily increasing their exposure to Turkey.
While Turkey has the lowest investment grade at Moody's and Fitch Ratings Ltd., it's rated junk at S&P Global Ratings. A downgrade probably wouldn't affect the foreign-currency bonds of Turkish companies as much as sovereign debt, but "could nevertheless be non-negligible for select benchmark issues such as Garanti or Halkbank," Barclays analysts said, referring to two listed lenders.
Delayed Reforms
Friday night's thwarted coup represents another setback for the government's promised reform agenda. So far this year, the country has been rocked by extraordinary events including the surprise resignation of its prime minister, terror attacks in major cities and now the failed attempt to overthrow President Recep Tayyip Erdogan. Turkey has held four nationwide elections since early 2014.
"The country's slower-than-expected progress in materially advancing planned economic reforms, in the context of both weakening growth and external buffers, had been previously captured in Moody's negative outlook," the rating agencies' analysts said in announcing the review. "Although the coup failed, the event in itself will likely exacerbate challenges in all of these areas."
Before it's here, it's on the Bloomberg Terminal.
LEARN MORE