Party Time
After Day of Disunity, Melania Offers Glimpse of Trump's Softer Side
Speakers focus on criticizing Clinton while lauding Trump
By , , and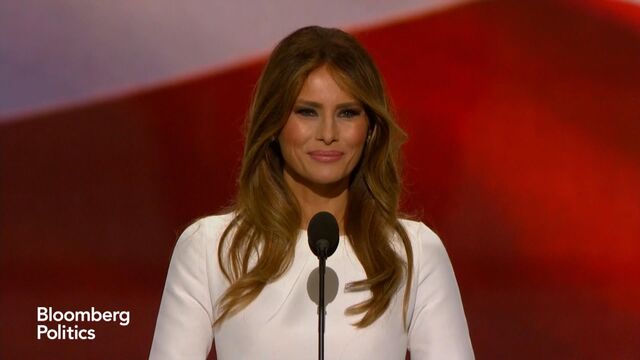 Donald Trump capped the first night of his nominating convention by having his wife make the case for him as a man, father and president, delivering a message of unity on a day marked by dissent and disruption.
The rare public speech by Slovenia-born Melania Trump, 46, was a chance for Trump to offer the American public a glimpse at something more than the brash public persona that he's cultivated over many years.
"He also knows how to remain focused on improving our country, on keeping it safe and secure. He is tough when he has to be but he is also kind and fair and caring,'' Melania Trump told the delegates gathered in Cleveland for the convention.
Trump himself introduced her, appearing on stage from behind a rising curtain as Queen's anthem "We Are the Champions'' played in the convention hall. 
She followed a parade of speakers that included entertainers, politicians and veterans that opened the first night of the Republican convention lauding Trump and lacing into Democrat Hillary Clinton and the Obama administration on the theme of keeping America safe.
As much as they talked about the virtues of Trump, speakers including former Arkansas Senator Tom Cotton and actor Scott Baio also laced into Democrat Hillary Clinton and the Obama administration, with an emphasis on the threat from illegal immigration at home and terrorists abroad.
The gloss of the prime-time display belied the fractures within the Republican base that put on display earlier in the day when factions opposed to Trump's nomination noisily disrupted what should have been a pro forma vote on convention rules.
The revolt was effectively quashed by Trump supporters and party officials and dissenters were left with few options to carry out further protests. But it was clear afterward that the process, in which delegates shut down an attempt to force a roll-call vote on rule changes, left many delegates fuming.
Delegates from Colorado were seen walking out of the hall, and former Virginia Attorney General Ken Cuccinelli was spotted angrily throwing his convention credentials to the floor after an effort to seek a roll-call vote on rules was cut short.
Senator Mike Lee of Utah, who like Cuccinelli supported Texas Senator Ted Cruz in the nomination campaign, told reporters on the floor of the arena where the convention's being held that he was still trying to get an answer to why party officials blocked a roll-call vote on the rules that would govern the convention and set guidelines for nominating process.
"This is not about Mr. Trump," he said. "This is about having a fair rules process."
Delegate Joel Mattila, wearing a Trump "Make America Great" hat, yelled "sour grapes" to Lee.
"Is it sour grapes to ask for a roll call vote?" Lee replied.
The anti-Trump delegates were seeking changes that would give them the ability to vote for someone other than Trump as well as altering other rules, such as limiting participation in future presidential primaries and caucuses to only registered Republicans.
While it was unlikely to stop Trump, who won far more delegates than he needs for the nomination, a roll call vote on the rules would have given anti-Trump delegates more opportunity to voice their disapproval. It potentially also could have caused an embarrassing delay in the schedule for the convention's prime-time lineup on its opening day.
Trump did not immediately acknowledge the chaos, but did tweet criticism of CNN's coverage in the minutes following the floor fight in which he said that a vast majority of those present supported him.
"They go to their dumb, one-sided panels when a podium speaker is for Trump!" he tweeted.
In another sign of the divisions in Cleveland, Trump's campaign chairman, Paul Manafort, said at a Bloomberg Politics breakfast Monday that Kasich is being "petulant" and "embarrassing" his party by attending only events on the sidelines of the convention in his home state. 
Melania Trump's appearance added a note of glamor to an evening that mostly featured Trump supporters from a variety of walks of life, from Willie Robertson, star of the cable program Duck Dynasty to two Marine Corps veterans who were a part of the security team at the U.S. outpost in Benghazi,  Libya, where four Americans lost their lives.
"Donald has a deep and unbounding determination and a never give up attitude,'' Melania Trump, the real estate developer's third wife said. "I have seen him fight for years to get a project done - or even started - and he does not give up. If you want someone to fight for you and your country, I can assure you, he is the guy.''
Most of the evening's speakers hewed to the night's theme of making country safe with stories of violence committed against Americans and with calls for a robust military.
"For eight years we've seen what happens when America leads from behind,'' Arkansas Senator Tom Cotton said. "We need a commander in chief who thinks about winning wars not merely ending wars.''
Patricia Smith, the mother of Sean Smith, one of the four Americans killed in the terrorist attack in Benghazi, Libya, delivered an emotional condemnation of Clinton.
"The tragedy in Benghazi was brought upon America. I blame Hillary Clinton,'' Smith said. "She lied to me and then called me a liar.''
Smith alleges Clinton, who was secretary of state at the time, falsely told her in a private meeting that an anti-Muslim video was at the root of the assault on a U.S. compound. The father of Tyrone Woods, a CIA operative who died at Benghazi, also has said Clinton mentioned the video. But members of other families who were at the meeting have said they don't remember any such discussion. Clinton has denied saying anything about the video and called suggestions she did "part of the fog of war.''
Texas Representative Michael McCaul warned that the nation's security is at risk.
"Its time to take back our country and make America safe again,'' McCaul said.
—With assistance from Kevin Cirilli, Jim Rowley, and Jennifer Jacobs.
Before it's here, it's on the Bloomberg Terminal.
LEARN MORE