Aberdeen's Discounted Property Sale Shows Post-Brexit Stress
By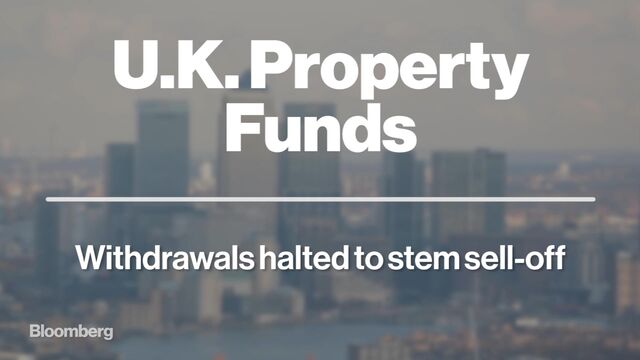 What's the cost of having to raise money quickly by selling London real estate? Almost 15 percent based on the sale of two properties on Oxford Street, the U.K.'s busiest shopping thoroughfare, since Britain voted to leave the European Union.
Aberdeen Asset Management Plc's U.K. Property Fund accepted a 15 percent price cut to sell a building on the street leased in part to pharmacy Boots on Friday, according to a person familiar with the matter. British Land Co. sold a department store leased to Debenhams after the referendum without taking a discount, said Fergus Keane, a senior director at broker Cushman & Wakefield Inc. who wasn't involved in the sale. Aberdeen and British Land declined to comment.
The contrasting outcomes show the discounts that property funds may face as they rush to sell properties to return cash to investors spooked by Brexit. The managers of seven funds overseeing about 18 billion pounds ($23.8 billion) of property suspended trading after the Brexit vote prompted a slew of investors to ask for their money back.
Offering daily liquidity on funds which hold illiquid assets creates a "vicious circle" when redemptions surge and will lead to discounted asset sales, Jefferies LLC analyst Mike Prew wrote in a July 7 note.
"If you have to sell a building in a very short space of time, there is a limited audience of buyers that can do that," said Stephen Down, an executive director at broker Savills Plc. "That's the only evidence we are seeing so far of discounts."
Fund Suspension
Aberdeen, which last week resumed trading in its U.K. property fund and feeder trust after a week-long suspension, sold the property to Norges Bank Real Estate Management on Friday for 124 million pounds, according to a statement. That's about 15 percent less than the offer price when it was marketed a few days earlier, according to a person familiar with the matter, who asked not to be identified because the details are private.
British Land, the U.K.'s second-largest real estate investment trust, sold the department store leased to Debenhams for 400 million pounds on July 7, according to a company statement. That's a yield of about 2.75 percent, according to JPMorgan Chase & Co., and in line with pre-Brexit yields for the best buildings on the street, Savills said.
"I had this asset under offer after Lehman Brothers," Savills's Down said. "I was buying it for a price reflecting a yield of 7 percent then. That was a proper crisis, this is just a confidence issue about the economy in the short term." That deal was not completed after British Land decided against selling the property.
Before it's here, it's on the Bloomberg Terminal.
LEARN MORE