'Star Trek' Starts New Mission With Capt. Dauman's Fate in Doubt
by and
Viacom CEO is trying to sell stake in studio as new film opens

Paramount division tries to rebound from series of movie flops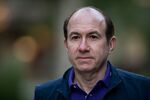 Paramount Pictures chose an apt location for the premiere of "Star Trek Beyond." The latest installment of the outer space franchise launches Wednesday at San Diego's Comic-Con International, the annual conclave for comic book lovers.
Paramount, part of New York-based Viacom Inc., will need all of those Trekkies, fanboys and super-hero fanatics to spread the word about the new film, which features Chris Pine and Zachary Quinto reprising their roles as Captain Kirk and Commander Spock.

Philippe Dauman, Viacom's beleaguered chief executive officer, needs a win. Amid a series of duds, he's trying to sell a 49 percent stake in the venerable Hollywood studio over the opposition of Viacom's controlling shareholder, 93-year-old Sumner Redstone, who's trying to fire his former protege. A successful opening could boost confidence in Dauman's efforts to rebuild Viacom, while a flop would further embolden his opponents. The film opens in U.S. theaters on Friday.
"They've got a lot riding on this one," said Doug Creutz, an analyst at Cowen & Co. "This is their last shot on goal this year."
Under studio CEO Brad Grey, Paramount's revenue has fallen for four straight years, and Viacom said in June that quarterly profit would trail analysts' estimates in part because the last big movie, "Teenage Mutant Ninja Turtles: Out of the Shadows," failed to connect with moviegoers. Two earlier 2016 releases, "Zoolander 2" and "Whiskey Tango Foxtrot," led to losses for the studio in the March-ended quarter.
For a Gadfly video on the Redstone drama, click here.
"Star Trek" has had respectable box-office results, though it's no "Star Wars." A dozen films dating to 1979 have grossed a total of $1.24 billion in the U.S., according to researcher Box Office Mojo, or $103.5 million per release. That compares with $3.2 billion for "Star Wars," including re-releases, or $457 million on average for each of seven movies.
Current estimates suggest the new film will need strong international sales to be profitable during its theatrical run.
BoxOfficePro.com predicts "Star Trek Beyond" will generate $56 million in opening weekend sales in the U.S. and $157 million through its full run in North American theaters. That's less than the two recent predecessors. The movie cost an estimated $185 million to make, according to a person with knowledge of the matter who asked not to be named, and many tens of millions more to market.
Sequel Fatigue
One challenge confronting Paramount is sequel fatigue. Hollywood studios are increasingly pinning their fortunes to big-budget franchise properties. Some, like 21st Century Fox Inc.'s "Independence Day: Resurgence," haven't measured up.
Paramount owns several franchises that could contribute to a turnaround. The company plans more "Transformers" movies and a series of films built around the Hasbro Inc. toy universe. It's also planning another "Mission: Impossible" with Tom Cruise. The studio hasn't decided whether to produce additional installments of the "Teenage Mutant Ninja Turtles" or "The Terminator."
"They've already lost a franchise with 'Teenage Mutant Nina Turtles,'' said Jeff Bock, senior analyst at Exhibitor Relations Co. "They can't afford to lose another."
2009 Reboot
J.J. Abrams rebooted "Star Trek" in 2009, directing a new, younger cast, and followed up with "Star Trek Into Darkness." Those two films each earned more than $135 million in profit from tickets sales, home video, television and merchandising, according to Wade Holden, an analyst at S&P Global. Abrams serves as a producer on the new "Star Trek" film and said last week that a fourth installment is in the works.
For "Star Trek Beyond," Justin Lin, the director of "Fast & Furious," took over.  The first trailer, with its thumping Beastie Boys soundtrack, explosions and kick-boxing aliens, was panned as being not cerebral enough and out of character by die hard fans. Later, at Cinemacon, the annual gathering of exhibitors, Paramount didn't offer any new footage.
Recent screenings in the U.S., U.K. and Australia have led to praise from movie fans and writers. In a bullish sign, Paramount told critics they could publish their reviews as early as last Friday instead holding them until Wednesday as planned. Out of 33 critiques so far at RottenTomatoes.com, 30 were positive.
"Star Trek" has always appealed to an older sci-fi fan, rather than the younger audiences captivated by "Star Wars" or "Jurassic World," said Jon Povill, who was an associate producer on the first film, 1979's "Star Trek: The Motion Picture," and has written for several versions of the TV series.
"When we were making the first film, that was something the studio was always upset about," Povill said. "The audience for action-adventure films is much bigger." Abrams's reboot was more in line with what Paramount always wanted, Povill added.
"It's more of a 'Star Wars' approach now," he said.
Before it's here, it's on the Bloomberg Terminal.
LEARN MORE