Wells Fargo Said to Pay $397 Million for City of London Office
by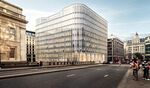 Wells Fargo & Co. will pay about 300 million pounds ($397 million) to acquire a new London headquarters enabling the U.S. bank to increase its presence in the U.K. capital, according to two people familiar with the matter who asked not to be named because the details are private.
The building, known as 33 Central, is due to be completed in the third quarter of 2017, according to a statement on Monday from the developer HB Reavis Group. The property in the City of London district would have room for about 2,600 people, based on the specification listed on the building's website. Wells Fargo employs 850 people across four London office properties and plans to occupy all of the new building, according to a spokeswoman. The firms declined to comment on the price.
The deal, just three weeks after Britain's shock vote to leave the European Union, signals London real estate demand may be resilient even as some banks plan to move staff away. Office rents may fall 24 percent in the U.K. capital if financial services firms fire or move 50,000 workers following the referendum, Societe Generale forecast on Monday.
Wells Fargo initially sought to lease the building before choosing to purchase it instead, according to the statement. The property will have a rooftop garden with views over the River Thames.
Before it's here, it's on the Bloomberg Terminal.
LEARN MORE