business
U.S. Warns on Turkey's Place in NATO as Erdogan Cracks Down
By
Kerry says alliance to assess Turkish acts 'very carefully'

EU sends parallel warning over introducing death penalty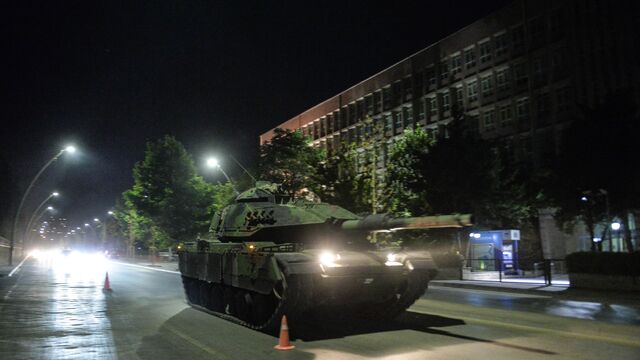 Turkish President Recep Tayyip Erdogan's crackdown after a failed coup prompted doubts about the country's longstanding place in the North Atlantic Treaty Organization and eligibility for eventual European Union membership.
U.S. Secretary of State John Kerry said NATO would assess whether Turkey upholds democratic values amid a wave of arrests tied to last Friday night's attempt by a group of Turkish military rebels to overthrow Erdogan.
"NATO also has a requirement with respect to democracy and NATO will indeed measure very carefully what is happening," Kerry told reporters on Monday in Brussels after attending a meeting of EU foreign ministers. "A lot of people have been arrested and arrested very quickly," he said, adding that "the level of vigilance and scrutiny is obviously going to be significant in the days ahead."
Erdogan's widespread purge has reinforced worries in the West about democratic backsliding in Turkey, which plays a strategic role for the U.S. and the EU in a region where Syria's civil war, Islamic State terrorism and mass refugee flows have caused upheaval. Within hours of the coup's failure, more than 2,800 soldiers and officers had been arrested.
Cold War
Turkey has been a member of NATO since 1952, when the country joined the alliance along with neighboring rival Greece at the height of the Cold War. As a Eurasian country, Turkey is the easternmost member of NATO.
"Being part of a unique community of values, it is essential for Turkey, like all other allies, to ensure full respect for democracy and its institutions, the constitutional order, the rule of law and fundamental freedoms," NATO Secretary General Jens Stoltenberg said in an e-mailed statement on Monday.
Erdogan's base of religious domestic support was on display in Istanbul over the weekend when a crowd turned out to hear a speech by the president and chanted "we want the death penalty." The prospect of Turkey introducing capital punishment in response to the coup prompted a warning from Federica Mogherini of the EU, which Turkey has been negotiating to join since 2005 and which prohibits the death penalty.
"No country can become an EU member state if it introduces the death penalty, that is very clear," Mogherini, the 28-nation bloc's foreign-policy chief, told reporters with Kerry standing alongside her.
Ethnic Minority
Political leaders in Germany, where about 3 million people of Turkish descent make Turks the country's largest ethnic minority, sounded alarm bells about Erdogan's response.
Chancellor Angela Merkel expressed concern about the "wave of arrests and dismissals" in Turkey in a phone call with Erdogan on Monday and warned that the death penalty is "in no way reconcilable with the goal of EU membership," the German government said on its website.
Merkel urged Turkish authorities to exercise restraint and observe the rule of law in the post-coup crackdown, according to the statement.
Johannes Hahn, the EU commissioner in charge of the bloc's enlargement negotiations, said the speed and scale of the arrests since Friday indicate the Turkish government might be taking advantage of the military revolt to pursue a wider campaign against critics.
"It's exactly what we have feared," Hahn told reporters on Monday. "That the lists are available already after the event indicates that this was prepared."
— With assistance by Arne Delfs, Ian Wishart, Patrick Donahue, Tony Czuczka, and Marc Champion
(
Updates with Merkel, Hahn comments starting in 10th paragraph.
)
Before it's here, it's on the Bloomberg Terminal.
LEARN MORE