U.S. ELECTION WRAP: Melania, Benghazi, Discord on RNC Opening Day
There was chaos on the convention floor in Cleveland as delegates mounted a last-ditch attempt to stop Donald Trump.
By and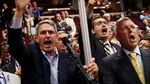 The four-day Republican National Convention kicked off in Cleveland amid uncertainty over the party's future and immediate discord, even as delegates prepare to formally crown Donald Trump their presidential nominee.
Anti-Trump delegates disrupted a vote on party convention rules in a last-ditch attempt to force a reconsideration of the nomination, Bloomberg's John McCormick and Mark Niquette reported
Senator Mike Lee of Utah called the convention floor scene "surreal" and said delegates didn't travel to Cleveland just to be "unheard"
The disruption marks the first sign of fracturing within the party ahead of the presumptive Republican nominee's appearance in the hall tonight to introduce his wife, Melania
"It's going to be very difficult to heal after this election, the rifts are deep," Regina Thomson, co-founder of "Free the Delegates," a group that has sought to find way to nominate a candidate other than Trump, told C-SPAN this morning

Trump "acts like a thug," Thomson said, adding that she plans to stay in the party and pursue change internally

Trump campaign chief Paul Manafort said the convention aims to show voters a different side of the billionaire businessman

"I want the American people to see the real Donald Trump, not just the campaign Donald Trump," he told Fox News' Sean Hannity last night

Family members will provide the "best testimonials" of who Trump is, Manafort told a Bloomberg Politics breakfast in Cleveland
Friends, families and employees "can attest to his personality," Manafort said. "Then we're going to have some people who he's done deals with. Who can talk to the kind of negotiator he is."
That effort begins tonight with Melania Trump, who is among this evening's main speakers
Trump, who has largely avoided the political spotlight, has said she doesn't always agree with her husband, but doesn't try to change him

"He's an adult. He knows the consequences and so I let him be who he is. I give him my opinions, many, many times," she told CNN's Anderson Cooper in February

The overall convention theme is Trump's campaign mantra, "Make America Great Again," with tonight focused on national security issues ("Make America Safe Again")
Other headlining speakers include Sen. Joni Ernst of Iowa, the first female combat veteran to serve in the Senate, Ret. Lt. Gen. Michael Flynn and Montana Rep. Ryan Zinke, who in 2014 became the first Navy SEAL elected to the House
Along with touting Trump, the convention will focus on attacking Hillary Clinton, with tonight centering on her role as secretary of state during the Sept. 2012 Benghazi attack

Speakers who will make the case against her on that matter are Pat Smith, mother of victim Sean Smith, and Marine Corps veterans John Tiegen and Mark Geist, both of whom fought in Benghazi

See full speaker list here

Click here to get the U.S. Election Wrap by e-mail every afternoon

MORE CONVENTION
In preparation for Melania Trump's convention address tonight, Vox posted a video for the geographically challenged to explain that Slovenia isn't the same country as Slovakia

Trump was born in former Yugoslavia, now Slovenia

One person not speaking this week is Don King

Trump kept pushing to get the boxing promoter and Cleveland native on the schedule, but GOP officials eventually had to tell him it was non-negotiable because King had been convicted of manslaughter for stomping a man to death; the party can't tie itself to someone convicted of a felony, they said, the New York Times reported

Ohio Gov. John Kasich, in response to Cleveland's police union calling for suspension of the Ohio law that allows people to openly carry firearms, said he didn't have the authority to do so, according to Reuters

The call to temporary scrap "open carry" followed yesterday's killing of police officers in Baton Rouge, La.

Protests probably would help Trump, campaign chairman Manafort said at the Bloomberg Politics breakfast

Turmoil in the streets will show "lawlessness" and "lack of respect" for political discourse, which would "probably help the campaign," he said

Trump has made clear he believes his path to White House hinges on convincing voters that only he can protect them from a chaotic and increasingly dangerous world, Bloomberg's Michael C. Bender reported
Bloomberg View's Jonathan Bernstein looks at the role of the modern day political convention here

ENDORSEMENT HOLD-OUTS
GOP Senator Ted Cruz of Texas still isn't ready to to endorse Trump, even though the former presidential candidate is slated to speak at the convention on Wednesday

Cruz tells Politico's "Off Message" podcast that his speech will focus on "changing the course this country is on"
Cruz gave thumbs up to Trump's VP pick, Indiana Governor Mike Pence, saying he thinks "very highly" of him

Meanwhile, the divide between the Trump camp and Kasich shows no signs of healing—and may be getting worse, at least among operatives for the two men
Manafort, in his comments at Bloomberg's breakfast, labeled Kasich "petulant" for continuing to withhold an endorsement of Trump, and said the governor is "embarrassing his party in Ohio"

Manafort also attacked Kasich adviser John Weaver, who like Manafort has spent decades working in the GOP trenches (most notably for Senator John McCain)
Talks to bring Kasich aboard the Trump train broke down because Weaver thinks the governor "will have a better chance to be president by not supporting" Trump, Kasich said, calling that idea "a dumb, dumb, dumb thing"

In an e-mail response to the New York Times, Weaver highlighted Manafort's past work for clients that have included dictators such as Ferdinand Marcos of the Philippines and Mobutu Sese Seko of Zaire

"Manafort's problem, after all those years on the lam with thugs and autocrats, is that he can't recognize principle and integrity," said Weaver

Kasich, though so far not scheduled to speak from the convention podium in his state's major city, will be making the rounds

REFLECTIONS ON TRUMP
The ghostwriter for Trump's 1987 memoir "The Art of the Deal," Tony Schwartz, told The New Yorker he feels a "deep sense of remorse" for helping present Trump in way "that brought him wider attention and made him more appealing than he is"

"I genuinely believe that if Trump wins and gets the nuclear codes there is an excellent possibility it will lead to the end of civilization"

Agriculture Secretary Tom Vilsack, one of Clinton's potential running mates, compared Trump to Bernie Madoff in interview with NBC News

"He is selling something that people don't fully understand and appreciate what it actually means," Vilsack said, likening Trump to the former stockbroker now serving a 150-year prison sentence




VEEPSTAKES FALLOUT
N.J. Gov. Chris Christie was irate he didn't get tapped to be Trump's VP, Weekly Standard's John McCormack reported, citing a conversation he overheard in Cleveland between Manafort and an unidentified man

Manafort confirmed to the man that Christie was livid

After a heavily scrutinized Trump-Pence debut in NYC on Saturday (with a large dose of commentary on Trump talking for 28 minutes before introducing his running mate), the pair sat with Lesley Stahl of CBS's 60 Minutes to answer questions about their chemistry, Trump's temperament and whether he relishes the idea of possibly governing the country

If you missed it, see interview here

The Trump graphics team may have gone back to the drawing board after the new Trump-Pence logo drew a large amount of ridicule; it was "completely scrubbed" from the campaign website, according to Daily Kos




ON THE TRAIL
Clinton pledged if elected to introduce a constitutional amendment to overturn the Supreme Court's Citizens United ruling within her first 30 days in office, Politico reported

Clinton made the promise over the weekend in a video address to the progressive Netroots Nation conference

Clinton, speaking today at the NAACP national convention in Cincinnati—Ohio's other major city—said the country has "difficult, painful, essential work ahead of us to repair the bonds between our police and our communities and between and among each other"

"There is clear evidence that African-Americans are disproportionately killed in police incidents compared with any other group"
Clinton said it's necessary to hold "police departments like Ferguson accountable"

Clinton also unveiled a voter-mobilization effort aiming to add more than 3 million people to registration rolls

Asian Americans, as fastest-growing racial group in U.S., are likely to be a big part of the effort, Washington Post reported

Trump, who a month ago created controversy when he questioned whether "there's something going on" in Obama's response to terrorism, this morning again questioned the president's motives, this time in responding to the police shootings in Baton Rouge
"I watched the president, and sometimes the words are okay. But just look at the body language and there's something going on. Look, there's something going on, Trump said on ''Fox & Friends"

That was the same venue where in mid-June he seemed to float the prospect of Obama having a hidden agenda when he said: "People cannot believe, they cannot believe that President Obama is acting the way he acts and he can't even mention the words 'radical Islamic terrorism.' There's something going on. It's inconceivable. There's something going on"

ADVERTISING
"Confessions of a Republican" is a web ad out today from Clinton's campaign, a play on a famed 1964 ad Democrats ran against that year's GOP nominee, Barry Goldwater

The ad features the same man, Bill Bogert, expressing the same concerns as he did 52 years ago
"This man scares me," Bogert says in the new version about Trump
"The party is about to make a terrible mistake in Cleveland and I'm going to have to vote against that mistake on the 8th of November"

POLLS
Clinton leads Trump 46%-41% in latest WSJ/NBC poll, with the margin unchanged from last month

She is ahead 41% vs 35% if third-party candidates are included

A Monmouth University poll shows Clinton's lead nationally over Trump has been cut in half, to 3 ppts, in the past month

July 14-16 poll of 805 registered voters has error margin of +/- 3.5 ppts

FiveThirtyEight answers 10 questions about "Where the 2016 Race Stands"

ETC
Thomas Barrack, a globe-trotting billionaire real-estate investor in Los Angeles who describes Trump as a "close friend," is publishing his own 12-page treatise on the economy; it doesn't mention Trump, but it's a type of defense of Trump's critique, Bloomberg's Zachary Mider reported
Redfin's Lorraine Woellert  looks at home ownership in the Cleveland and Philadelphia areas in: "Republicans Are More Likely to Own Homes and Other True Cliches"

CONGRESSIONAL RACES
NH-SEN: A Democratic super-PAC aired TV ad accusing GOP Sen. Kelly Ayotte of voting to change Medicare into a "voucher program" and raise program's eligibility age

Ad refers to Ayotte's votes for non-binding budget resolutions sponsored by then-House Budget Committee Chairman Paul Ryan, whose blueprints called for turning Medicare into premium support system, raising eligibility age from 65 to 67 over a decade starting in 2023
Ad sponsored by super-PAC of Emily's List, group that backs Democratic women who support abortion rights, including Ayotte's opponent in Nov., Gov. Maggie Hassan

HOUSE: The chairman of National Republican Congressional Committee said in Cleveland today that Trump's candidacy won't cost Republicans control of the House, The Hill reported

"I'd like to hold what we have, and I think there are targets of opportunity" to win Democratic seats, said NRCC chairman Greg Walden, House member from Oregon
NOTE: Republicans control House 247-187, with one vacancy in strongly Democratic district; 218 needed for majority

FL-18: Democratic businessman Randy Perkins released lighthearted TV ad in which his two daughters constantly interrupt him to tout their father's support for abortion rights, family and medical leave policies, equal pay for women

Perkins among three Democrats seeking southeastern district of Democratic Representative Patrick Murphy, who's running for Senate

IL-10: GOP Rep. Bob Dold's campaign released TV ad describing Democrat Brad Schneider as "dodgy and dishonest" for not releasing tax returns

Dold/Schneider facing off for third straight election in North Shore suburban district where Clinton is favored to defeat Trump after Obama carried it with 58% in 2012

KS-01: Republican physician Roger Marshall's campaign released TV ad touting endorsement from Kansas Farm Bureau and referring to GOP Rep. Tim Huelskamp as "say-anything, do-nothing congressman"

Huelskamp was removed from Agriculture Committee in 2012 and voted against reauthorization of farm programs in 2014; he said measure was too costly and that he'll be back on committee next year
Huelskamp raised $167k vs. Marshall's $159k in Q2, according to FEC filings; Marshall's donors included PACs associated with National Corn Growers Association and Representative Adam Kinzinger of Illinois
Primary is August 2 in Kansas's most Republican and geographically large district

TN-06: GOP Rep. Diane Black aired TV ad saying former state Rep. Joe Carr "runs for a different office every election," doesn't live in district, and is "only in it for himself"

Carr lost 50%-41% in 2014 primary challenge to Sen. Lamar Alexander
Primary is August 4 in GOP-leaning district that takes in Hendersonville, Cookeville, in northern/central Tennessee
Before it's here, it's on the Bloomberg Terminal.
LEARN MORE