U.S. Counting on $2 Billion in Pledges for Iraq at Donor Meeting
By
Funds will go to humanitarian aid, stabilization, sanitation

Push to retake Mosul may require $184 million in aid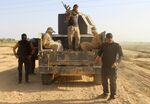 The U.S. expects to raise at least $2 billion from governments around the world to help Iraq as it retakes territory from Islamic State militants.
QuickTake Iraq's Brittle Nationhood
Twenty-four countries will take part in a July 20 pledging conference in Washington where financial commitments will be made, with the focus on humanitarian assistance, mine removal and stabilization programs such as jobs, electricity and sanitation, a State Department official who requested anonymity said Monday on a conference call with reporters.
The event, which will be attended by Iraqi Foreign Minister Ibrahim al-Jaafari, is partly a bid to refocus attention on Iraq's needs after priorities shifted elsewhere in the years since the U.S.-led Iraq war ended. It's also an effort to rebuild after the Iraqi army pushed Islamic State out of Fallujah and other cities, and prepares for an offensive on the key northern city of Mosul.

The United Nations says an $861 million humanitarian appeal for Iraq has only been 38 percent fulfilled. About 3.3 million people in Iraq have been displaced since the Islamic State began expanding its territory in Iraq, according to the State Department.
Anticipated Donations
The State Department official said some of the pledges that will be announced at the conference will total more than $100 million and that the U.S will make a substantial contribution itself.
The UN has closed valuable programs, including those related to health and sanitation, due to lack of money, according to a second State Department official on the call.
Wednesday's conference is also intended to fill the coffers for assistance ahead of the expected push to retake Mosul. The UN said it anticipates needing $184 million to prepare for the Mosul operation, which is likely to lead to significant displacement of residents, according to the first official.
Last week, Defense Secretary Ash Carter said the U.S. would deploy an additional 560 troops to Iraq for a logistics base outside Mosul. The U.S. has about 3,500 U.S. troops in the country.