Post-Brexit U.K. Welcomes ARM Purchase in Test of Strategy
By and
Hammond says $32bn deal is sign of strength after Brexit vote

May had pledged protection against key industry takeovers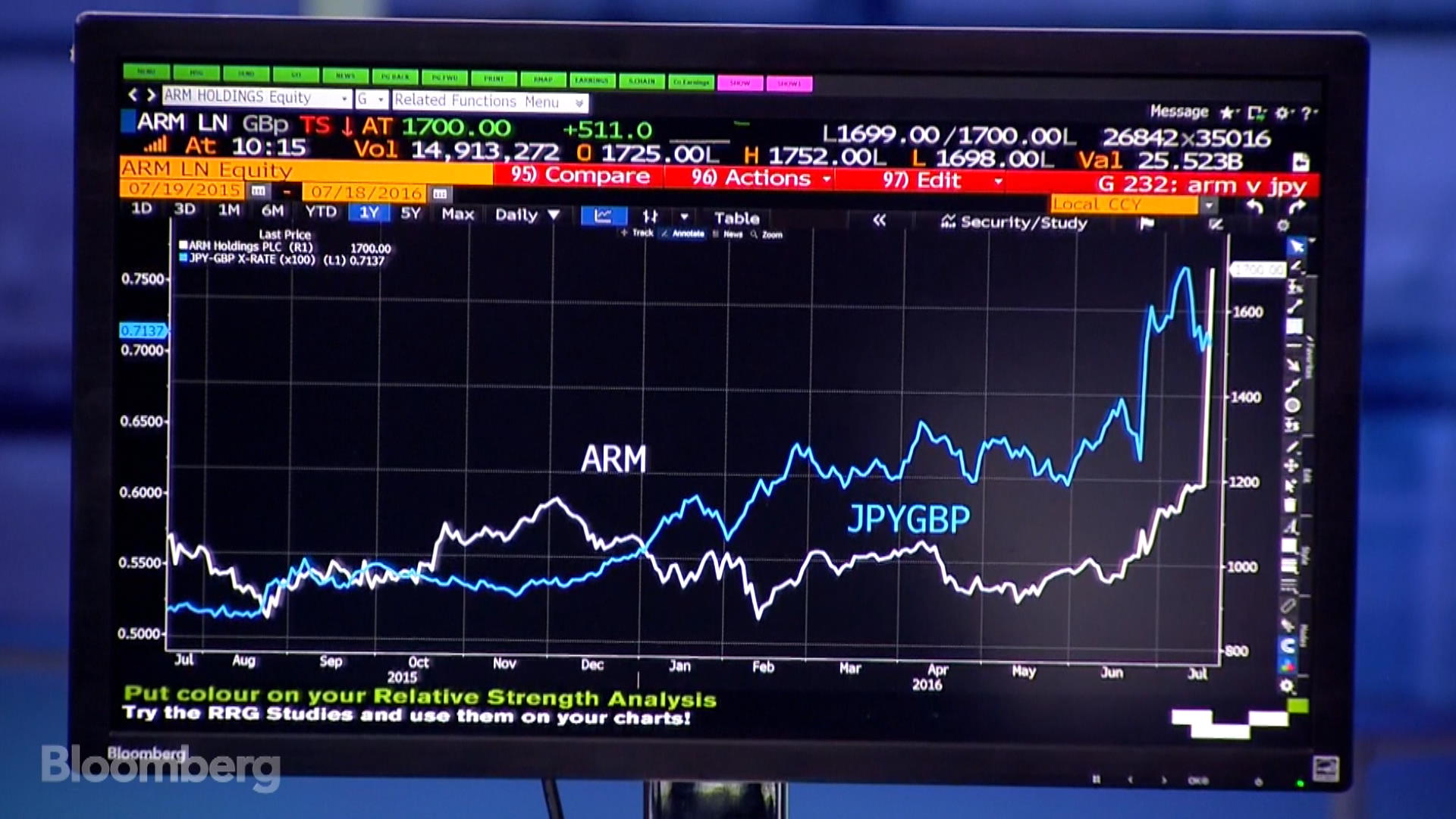 In the first test of new British Prime Minister Theresa May's promised "industrial strategy" since the U.K.'s vote to leave the European Union brought her to power, the government welcomed a Japanese takeover of one of the country's corporate crown jewels.
SoftBank Group Corp.'s 24.3-billion-pound ($32 billion) deal to buy British chip designer ARM Holdings Plc is the biggest takeover of a U.K. company since the country voted to leave the European Union. Confounding expectations that Brexit -- and May's new wariness of foreign deals -- would deter investors, the surprise referendum result may have spurred the deal along.

The companies started talking only after the June 23 EU vote, ARM Chief Executive Officer Simon Segars said in an interview. A plunge in the pound that followed the vote lowered the price for SoftBank, a Japanese telecoms and internet giant, though a rise in ARM's share price lessened some of the benefit.
Investors in post-Brexit Britain face uncertainty over how they will be able to sell their goods into the European single market and whether future immigration policy will allow them to employ foreign workers. Still, for SoftBank, losing single-market access may be less of a factor than it would be for potential buyers of other U.K. companies as ARM sells its chip designs primarily to smartphone makers based in the U.S. and Asia.
"Just three weeks after the referendum decision, it shows that Britain has lost none of its allure to international investors," Chancellor of the Exchequer Philip Hammond said. "Britain is open for business -- and open to foreign investment. SoftBank's decision confirms that Britain remains one of the most attractive destinations globally for investors to create jobs and wealth."
His statement, 15 minutes after the deal was announced, was a clear sign the government welcomed the deal, which Hammond said would turn the dominant designer of chips for the world's smartphones into a "global phenomenon." Those comments, which would have been unremarkable a month ago, provided necessary reassurance to investors after his boss signaled a change in Britain's usual light-touch approach just a week earlier.
'Stepping In'
Last week, before she became prime minister, May said she wanted to move away from Britain's laissez-faire approach to foreign takeovers as she cited Pfizer Inc.'s 2014 bid for AstraZeneca Plc as an offer that should have received more scrutiny. She created a new government department whose portfolio includes industrial strategy, after saying the government should be "capable of stepping in to defend a sector that is as important as pharmaceuticals is to Britain."
May spoke with SoftBank Chairman Masayoshi Son on Sunday and welcomed the investment, the prime minister's spokeswoman Helen Bower told reporters Monday.
"It's very much in the national interest," Bower said.
Making the ARM deal more politically acceptable, SoftBank pledged to keep the company's headquarters in Cambridge and to at least double employee headcount in the U.K. in the next five years.
 A rare home-grown tech success story, ARM evolved from a small lab in a converted barn to a company that develops chips found in 95 percent of smartphones. The company gets royalties every time clients such as Apple Inc. or Samsung Electronics Co. adopt its designs, which are considered power-saving and efficient.
Watch Next: ARM's $32bn Deal - Just What Brexit Britain Needs?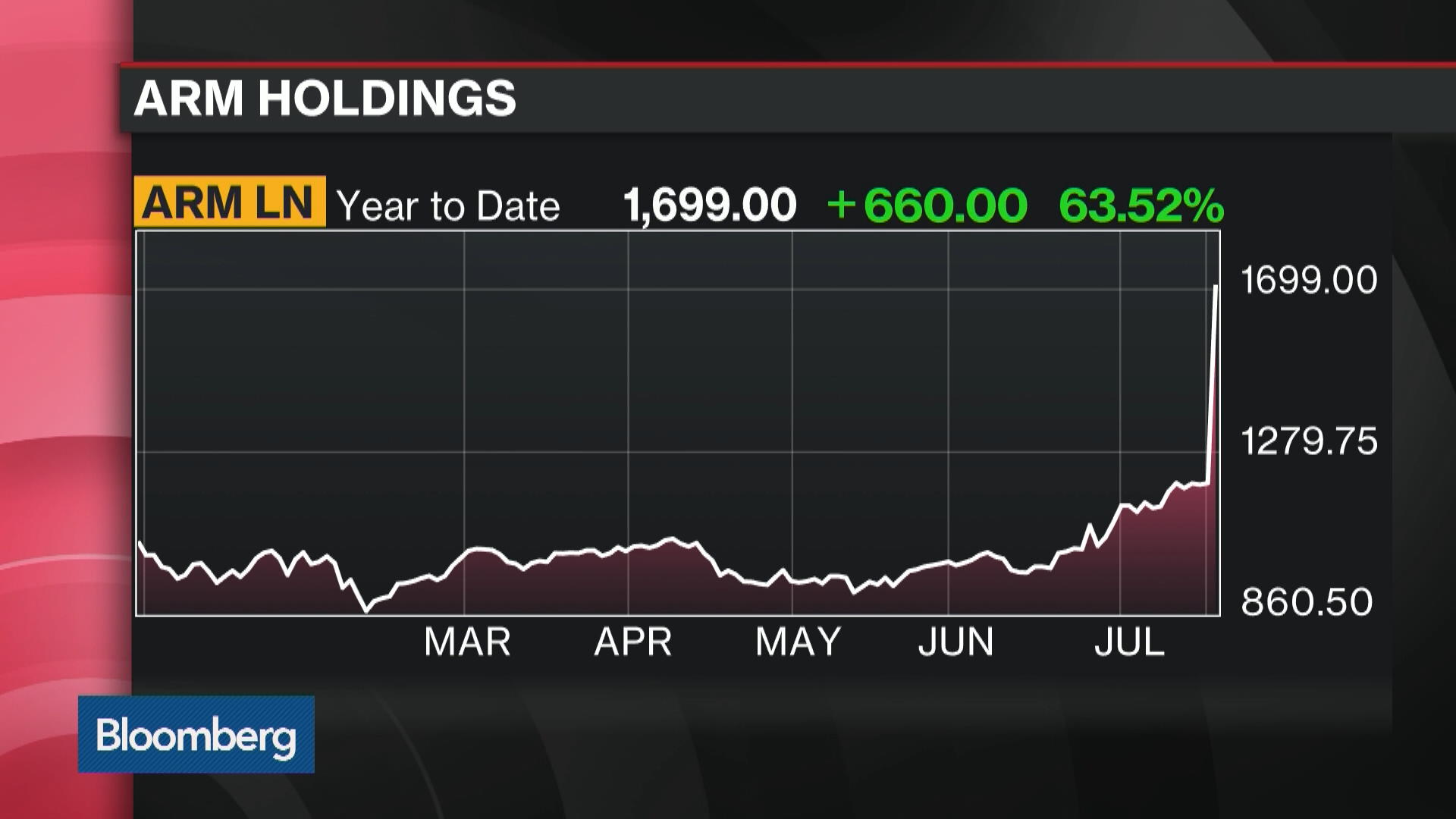 'Big-Size Cash'
Son said the timing of the deal was linked to raising cash from sales of stakes in other companies, rather than Brexit. But he said the planned acquisition, and the fact that he was willing to commit "big-size cash," underscored his optimism over the U.K.'s prospects outside the EU.
"This will be one incidence of endorsement into the future of the U.K.," Son said at a press conference.
Before the Brexit referendum, ARM executives warned that voting to leave the EU could complicate hiring engineers. Son said he hopes the U.K. will not make it hard to retain ARM's existing talent or to attract new employees from overseas.
"I just hope that ARM's skillful, very skillful engineers can continue to be attracted and aggregated by ARM," he said.
Segars said he did not think the Brexit vote or the plunge in the U.K. currency that followed the referendum were the main motivations for the deal.
"This was not driven by Brexit at all," Segars said. "This is about driving the future. This all happened very, very quickly. They made an offer that was very, very compelling for our shareholders and a proposal for how to invest in the company for the future."
By moving quickly, SoftBank was able to get in ahead of any change in U.K. takeover rules -- should May be inclined to eye future deals more critically.
Former Business Secretary Vince Cable told the BBC that the government currently doesn't have the power to block deals. "We don't have a system of defense against takeovers if they turn out to be unsatisfactory," he said. "This is the last of the home-grown British technology companies."