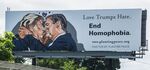 Donald Trump and Ted Cruz locked in an amorous embrace, about to press their lips together like two slabs of moist, putrid lunch meat—that's the image people will have to endure attending this week's Republican National Convention in Cleveland.
A billboard featuring the two GOP heavies' moment of passion went up just five minutes from where the convention is happening at the Quicken Loans Arena. It's a sight that not many want to see, but the message behind it is one of hope. Planting Peace, a global nonprofit that paid for the ad, explains in a blog post:
What Donald, Ted and the republican platform either fail to realize, or realize and just don't seem to care about, is that their words and actions toward our LGBT family—especially LGBT children—have meaning and impact. LGBT children hear these messages telling them they are nothing but second class citizens and are left feeling somehow broken or "less than."...

Planting Peace calls for the immediate change in the republican party platform with regard to our LGBT family and LGBT rights. Never again shall a negative, hateful message be uttered in the name of "religious freedom." We are calling for action that brings full fundamental rights to the LGBT community, and a narrative that empowers LGBT people to live and love freely.
This isn't the first time advertisements have been used to prod the opposition at national conventions. At the 2012 GOP gathering in Florida, a group devoted to electing progressive women put up a billboard reading: "Welcome to Tampa! Where the mayor and all city council members are DEMOCRATS." And at that year's Democratic National Convention in Charlotte, North Carolina, atheists erected a billboard mocking Barack Obama's Christianity and Mitt Romney's Mormonism, saying about the latter: "God is a Space Alien, Baptizes Dead People, Big Money, Big Bigotry."