Sprint Investors Fret as Owner SoftBank Takes Out Checkbook
by and
ARM deal puts focus back on Sprint's go-it-alone strategy

Stock had soared on speculation of more investment by SoftBank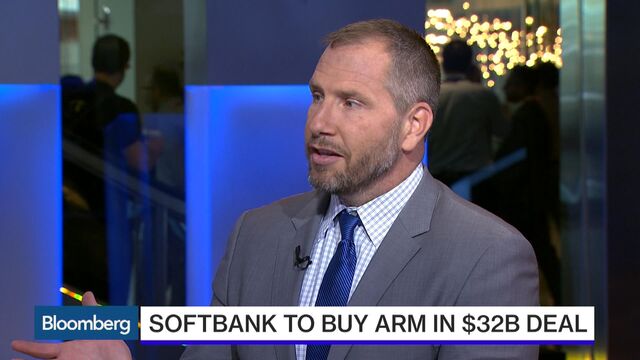 Sprint Corp.'s shares and bonds fell as investors speculated that it would get less support and attention from its parent company, SoftBank Group Corp., after its owner agreed to buy ARM Holdings Plc for $32 billion.
Japan's SoftBank is planning to fund its purchase of ARM with cash and loans, which could leave it with less money to funnel to Sprint for turnaround efforts. The shares of the U.S. wireless carrier fell as much as 8 percent to $4.60, the biggest intraday drop since March 10, and were trading at $4.70 at 3:28 p.m. in New York. The company's most actively traded bonds fell 1.12 cents on the dollar to 85.875 cents, according to data compiled by Bloomberg.
Buried under $33 billion in debt, Sprint has struggled to make investments to compete with larger rivals such as AT&T Inc. and Verizon Communications Inc. The company has slashed network spending to the lowest level since 2010 and is putting up phones, equipment and airwaves as collateral in loan deals brokered by SoftBank, which controls 83 percent of the company.
'More Confidence'
SoftBank Chief Executive Officer Masayoshi Son said he was comfortable acquiring ARM because Sprint is becoming self-sufficient, and doesn't need further cash infusions.
"I have much more confidence in Sprint right now," Son said during a conference call Monday. Even though his initial hopes of merging Sprint with T-Mobile US Inc. were dashed by regulators, the U.S. wireless carrier can now stand on its own, he aid.
"Sprint was a big problem in the past," he added, noting that the Overland Park, Kansas-based company is expected to post positive earnings before interest and tax this year and should be generating adjusted free cash flow by the end of 2016 or early next year.
Funding Insurance
Sprint shares had been rallying on optimism that Son's commitment to the U.S. carrier remains deep. The shares have climbed almost 30 percent since former SoftBank heir apparent Nikesh Arora stepped down last month, leaving Son to run the company for longer than originally planned.
"Sprint's stock has moved up materially, partly on the back of SoftBank raising significant cash from various asset sales," said Kevin Roe, an analyst with Roe Equity Research LLC. "The market viewed the improved SoftBank liquidity as greater funding insurance to cover Sprint's losses. Today's ARM acquisition severely challenges that view as SoftBank will have to not only depart with the cash they have raised through asset sales but also raise significant new debt."
Bond market investors reacted similarly on Monday, said Dave Novosel, a debt analyst at independent research firm Gimme Credit. "People assumed that Sprint would get backstop support from SoftBank. That perception is now weakened," he said. It was never clear how much financial support SoftBank would really provide to Sprint, he said.
Buying Time
In addition to Sprint's bond prices falling, the cost of protecting its debt against default climbed by the most in three weeks, according to data provider CMA. The upfront cost of credit default swaps rose 1.25 percentage points to 11.26 percentage points, Bloomberg data show. That means it would cost $1.13 million upfront to insure $10 million of debt for five years, in addition to $500,000 annually.  
In ARM, SoftBank would secure a slice of virtually every mobile computing gadget on the planet and future connected devices in the home. The company will gain control of a cash-generating mobile industry leader that gets royalties every time clients such as Apple Inc., Samsung Electronics Co. or Qualcomm Inc. adopt its designs, which are considered power-saving and efficient. The deal is the biggest takeover of a British company since the country last month decided to leave the European Union and comes after the pound plummeted against the Japanese yen.
"SoftBank's Sprint strategy is to buy the company more time until a hoped-for M&A transaction puts their investment on more solid ground," Roe said.
Before it's here, it's on the Bloomberg Terminal.
LEARN MORE