Netflix Stumbles on Path to World TV Network With Price Hike
by
Results show subscribers more sensitive to costs than thought

Rio Olympics could draw audiences away during current quarter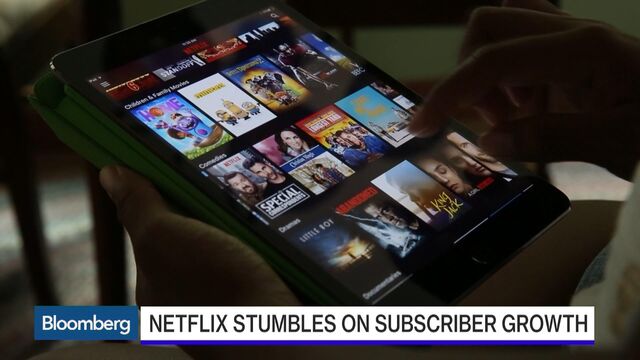 Netflix Inc.'s quest to create the first global, online TV network hit a speed bump Monday when the company said a price increase cut subscriber growth to a three-year low, causing its stock to plummet and exacerbating concerns about its future growth.
The streaming service added 1.68 million subscribers in the second quarter of 2016, missing its forecasts both at home and abroad, according to a statement on its website. Netflix added 1.52 million new customers overseas, compared with an April projection of 2 million. It added 160,000 in the U.S., bringing the company total to 83.2 million.
The shares sank 13 percent to $86.26 at 9:43 a.m. in New York. The stock had already dropped 14 percent this year through Monday's close.
Netflix blamed a recent price increase that affected some of its earliest subscribers, saying the change led to an increase in cancellations. While the company saw gains in sales and profit, investors focus on user growth, especially from fast-growing international markets, and were shocked by the shortfall.
"We apologize for the volatility," Chief Executive Officer Reed Hastings said on a call with analysts. "I know it's not easy on everyone. The big picture is very much intact, and we're very excited about it, and so we're continuing to execute on growing the business."

Sales reached $2.11 billion, up 28 percent from a year ago.
Netflix reported EPS of 9 cents a share, an increase from 6 cents a year ago.
Overseas markets now account for 43 percent of Netflix's overall subscriber base.


This isn't the first time Netflix has alienated customers after raising prices. The company lost 800,000 U.S. subscribers in the third quarter of 2011 after splitting its streaming and DVD services and effectively doubling the cost for some customers.
Hastings tried to avoid a similar reaction this time around by raising prices $1 or $2 a month for new customers, and slowly imposing the increase on existing customers. Netflix still experienced higher "churn," with more viewers turning off the service. The company charges $7.99 to $11.99 a month in the U.S.
Subscriber Outlook
The outlook for the current period reflects the fallout from higher prices and competition for viewers from the Olympics. This quarter, Netflix expects to add 2.3 million net new customers, including 300,000 in the U.S. and 2 million internationally. The company forecasts profit of 5 cents a share, a drop from 7 cents a year earlier.
Netflix executives sought to frame the results as a temporary blip that won't impede its long-term growth. The company plans to top 100 million customers worldwide next year.
"Whatever the price is for something, people don't like it to go up," Hastings said on the call. ''But in terms of new members, which is what drives growth, the new pricing's working great."
Netflix may have lost customers who signed up for the service in the first quarter after getting new web-enabled TVs for the holidays, said Andre Swanston, chief executive officer of TruOptik, which helps Internet video services reach new subscribers. He also said the company's programming may need tweaking for audiences outside the U.S.
"It's unrealistic" to think the increases were the only reason Netflix added fewer customers than forecast, Swanston said.
Overseas Growth
With more than 47 million customers in the U.S., exceeding any domestic premium cable network, Netflix is relying on international markets to provide most of its new subscribers. Most analysts anticipate the company's overseas customer base will surpass the domestic total in the next couple of years.
Netflix introduced its TV service to 130 new markets in January, completing its international expansion save for one major market: China. The company has reiterated its interest in entering the world's most populous country, but cautioned that it faces a more challenging regulatory climate there.
The service is an expensive proposition for residents in many countries, particularly in markets with local players that offer more domestic programming. Netflix also has more competition at home as large media companies start to offer more of their shows online themselves, such as Time Warner Inc.'s HBO Now, or through rival outlets like Hulu.
"They don't have as compelling a content library in international markets as they do in the U.S.," Swanston.
Local Programming
On Monday's call, Netflix discounted the growth of competitors as a factor in its slowdown, and said the company was still in the early days of creating local original programming, including shows for Italy, Brazil and India.
Many investors have bought into the long-term vision, trusting Netflix to sign new customers and extract more money from each one. Higher prices will add $470 million in incremental annual revenue, according to estimates by Nomura Holdings. Meanwhile, Comcast Corp. has agreed to offer Netflix on its X1 set-top boxes, which could help the company attract more subscribers at home.
Hastings has promised to deliver material profit starting next year, when the company no longer has startup costs for new markets. Netflix has said it will eventually have 60 million to 90 million customers in the U.S. Netflix will claim 88.7 million subscribers outside the U.S. by 2020, according to Nomura.
"We've had these short quarters before," Hastings said. "Internet TV is going to be an enormous market. We're very confident of that. And our competitive position is very strong."
Before it's here, it's on the Bloomberg Terminal.
LEARN MORE