May Says U.K. Government Must Not Be Defined by Brexit Decision
by and
Johnson will meet Kerry to underline 'special relationship'

Cabinet all share responsibility for delivering social justice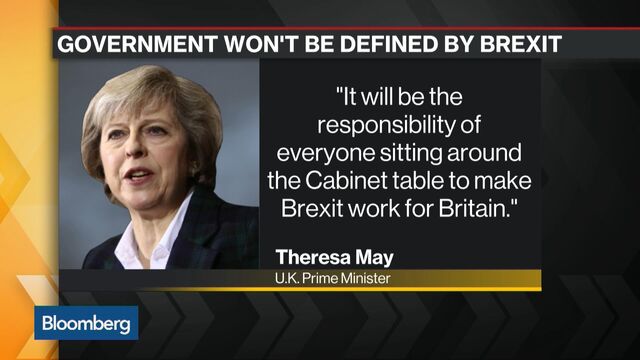 Prime Minister Theresa May will chair the first meeting of her cabinet on Tuesday with an instruction for senior ministers not to allow her administration to be "defined" by Britain's decision to leave the European Union.
All members will share responsibility for making a success of the divorce, rather than leaving it to those appointed to lead negotiations with the bloc, May said in an e-mailed statement ahead of the meeting. She also reiterated her mission to deliver social justice and a country that benefits all citizens.
"We will not allow the country to be defined by Brexit; but instead build the education, skills, and social mobility to allow everyone to prosper from the opportunities of leaving the EU," May said. "It will be the responsibility of everyone sitting around the Cabinet table to make Brexit work for Britain."
May has sought to put her own stamp on government since she succeeded David Cameron as prime minister last week, emphasizing the need for Britain to maintain its position of power in the world while withdrawing from the EU.
Johnson Criticized
Foreign Secretary Boris Johnson will meet U.S. Secretary of State John Kerry in London on Tuesday to reaffirm the "special relationship" between the countries. Johnson's appointment led to criticism after his past comments about American and other leaders were publicized, and he has said the U.S. was "in the front of the queue" for an apology.
Johnson said President Barack Obama's "part-Kenyan" ancestry made him hostile to Britain, and compared presumptive Democratic presidential candidate Hillary Clinton to a "a sadistic nurse in a mental hospital." He also described former President George W Bush as a "cross-eyed Texan warmonger."
Johnson will also meet with foreign ministers from Germany, France and Italy to discuss the war in Syria, before meeting with representatives from Saudi Arabia and the United Arab Emirates to discuss the conflict in Yemen.
The flurry of engagements, which precede a visit to Washington on Thursday, follow Johnson's meeting with EU foreign ministers on Monday, where he pledged that Britain would continue to be an active participant on the European stage post-Brexit.
"We must be more active, more engaged and more outward-looking, so I am delighted to have this early opportunity to welcome my international counterparts to London for important meetings on the conflicts in Syria and Yemen," Johnson said in a statement on Tuesday. "The suffering of the Syrian people will not end while Assad remains in power. The international community, including Russia, must be united on this," he said, referring to Syrian President Bashar al-Assad.
Before it's here, it's on the Bloomberg Terminal.
LEARN MORE