Martin Weale to Join King's College London Economics Department
by
Policy maker says he's unsure if he'll vote for action in Aug.

Michael Saunders will join rate-setting committee next month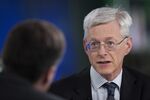 Bank of England policy maker Martin Weale will turn to academia after six years at the central bank.
Weale, one of the more activist members of the BOE's Monetary Policy Committee, will join King's College London's economics department, the central bank and university said Monday. The 60-year-old's second term at the BOE comes to an end on Aug. 8.
The departure coincides with a seismic change in the debate around monetary policy, which was seen to be on a trajectory toward tightening before Britons voted to leave the European Union last month. Prior to the referendum, Weale wasn't afraid to challenge the status quo, voting to raise the bank's key rate from a record-low 0.5 percent for five consecutive months between August and December 2014. The rate hasn't budged since 2009.
That willingness to be in the minority on the nine-member MPC could be repeated in his last decision on the panel next month, when officials also publish new forecasts. Weale said Monday that he needs more evidence on how the economy is reacting to Brexit before voting for easing, a contrast from the views of fellow policy maker Gertjan Vlieghe, Governor Mark Carney, and Chief Economist Andy Haldane, who have indicated they will opt for a loosening in policy.
Prior to joining the BOE, Weale spent fifteen years as director of the National Institute of Economic and Social Research, lectured in economics at the University of Cambridge -- his alma mater -- and worked for the National Statistics Office in Malawi.
Weale will be replaced by former Citigroup economist Michael Saunders, who will become one of four so-called external members of the MPC who serve in a part-time capacity.
Academia is a common move for former European policy makers, who often had university ties before joining central banks. Mervyn King became a visiting professor at New York University's Stern School of Business after he stepped down as BOE governor in 2013, while Harvard University attracted both Paul Tucker and Lorenzo Bini Smaghi. Axel Weber taught at the University of Chicago after stepping down as president of Germany's Bundesbank.
Before it's here, it's on the Bloomberg Terminal.
LEARN MORE