U.S. Asks High Court to Rehear Deadlocked Immigration Case
By
Justice Department files unusual request for second hearing

Court deadlocked 4-4 in June on Obama immigration actions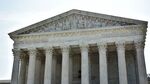 President Barack Obama's administration asked the U.S. Supreme Court to reconsider his plan to shield millions of immigrants from deportation after the court's 4-4 deadlock in June blocked the program from taking effect.
The request filed Monday asked the court to grant a new hearing "when it has a full complement of members." Justice Antonin Scalia died in February, and Senate Republicans have refused to consider Obama's nomination of Judge Merrick Garland to take his place.
The court's evenly split decision on June 23 left intact an appeals court ruling that said Obama overstepped his authority, along with a trial judge's order preventing the program from taking effect. The high court action didn't mean those immigrants will be deported, but it blocked a program that would have let them seek work permits.
The Justice Department made the rare request after the administration has warned for months about the consequences of having an eight-justice Supreme Court. At the time of the ruling, Obama called it "heartbreaking" for the millions of undocumented immigrants it affected. Obama has tried to make immigration changes part of his legacy as president, but he hasn't found common ground in Congress. He said he resorted to executive action because he doesn't expect to change immigration laws through legislation.
'Definitive Resolution'
"This filing is consistent with historical practice and reflects the need for prompt and definitive resolution of this important case," Justice Department spokeswoman Melanie Newman said in an e-mail.
The petition was filed as Republicans begin their political convention in Cleveland where the party is expected to nominate Donald Trump, who has called for a wall between the U.S. and Mexico to prevent undocumented immigrants from entering from that country. Presumed Democratic presidential nominee Hillary Clinton has called the court's deadlock "unacceptable" and said Obama was within his constitutional authority as president to take the executive action.
"The Court has granted such petitions in similar circumstances and should do so here given the significance of the policies at issue in the case," White House spokeswoman Brandi Hoffine said in an e-mail. 
Texas challenged Obama's actions, saying federal immigration laws set out detailed rules for deportation and don't give the president authority to shield such a large category of people.
"Because we are right on the law, we have prevailed at every stage in this case and we are confident that we will continue to prevail," Marc Rylander, communications director for Texas Attorney General Ken Paxton, said in an e-mailed statement Monday.
Before it's here, it's on the Bloomberg Terminal.
LEARN MORE