Erdogan's Five-Minute Interview Turns Stock Into Lonely Winner
by
Dogan Holding is the only company on the Borsa 100 to rise

CNNTurk had a chat with Erdogan after midnight on Saturday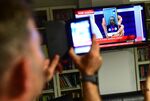 It's been a laggard all year on Turkey's main stock index, losing 14 percent through Friday.
But a five-minute mobile-phone interview conducted with President Recep Tayyip Erdogan during the tensest moments of the failed coup that erupted Friday has changed everything for Dogan Sirketler Grubu Holding, a company with stakes in industries from insurance to energy and broadcasting.
The stock soared as much as 16 percent Monday, the only gainer on the Borsa Istanbul 100 Index, as traders exchanged 63 million shares, the most in more than two months. It was up 2 percent at the close in Istanbul Monday.
The reason for Dogan's sudden change of fortune is illustrative of the politics of media in Turkey, where the company, which owns a stake in CNNTurk TV, has suffered amid accusations from Erdogan that it stands for "old Turkey." It was a reporter for CNNTurk who connected with Erdogan via the FaceTime video-calling app at a time when his whereabouts were still unknown. By putting her mobile phone in front of the camera, she enabled the president to speak live to the nation and insist he was still in control.

"The group earned praise from government officials following its broadcast of Erdogan on Friday," said Figen Ozavci, the deputy chief executive officer at the Meksa Yatirim Menkul Degerler brokerage in Istanbul. "Investors seem to have interpreted this as the tension being reduced between the government and Dogan Holding, which is a positive given past experiences."
While the coup was quashed hours after it began, it came less than three weeks after a terrorist attack at Istanbul's main airport killed more than 40 people, raising concerns over Erdogan's control over the nation's security.
The Borsa Istanbul 100 Index retreated 7.1 percent on Monday, trimming its advance this year to 7.3 percent.
Before it's here, it's on the Bloomberg Terminal.
LEARN MORE