ECB Buys More Than 150 Companies' Bonds in Five-Week-Old Program
by and
Purchases include notes from Danone, Lufthansa and Glencore

Central bank is buying debt in a bid to spur economic growth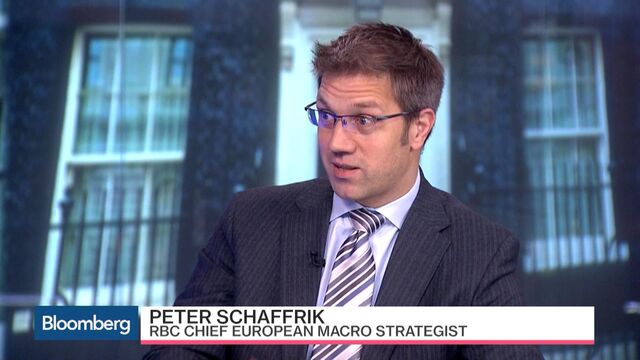 The European Central Bank published its corporate-bond holdings for the first time, showing that it has bought debt issued by more than 150 companies under a five-week-old stimulus program.
Issuers included foodmaker Danone SA, miner Glencore Plc and insurer Mapfre SA, according to data on the ECB's website, which didn't divulge the size of individual bond holdings. Deutsche Lufthansa AG and Telecom Italia SpA notes rated junk by at least one rating company were also acquired.
"The extent of the program is massive," said Jeroen van den Broek, ING Groep NV's Amsterdam-based head of debt strategy and research. The ECB is buying more than 300 million euros ($332 million) of bonds per day "in a very illiquid market," he said.
The ECB has bought about 10.4 billion euros of company bonds since the program began on June 8 as part of widening efforts to revive economic growth in Europe. It will publish a list of holdings each week as dealers will be able to borrow notes to help ease market liquidity.
More than 440 bonds have been bought by the ECB, led by consumer companies, utilities and telecoms, according to Bloomberg analysis. German companies comprised 39 percent of the issuers, while only 20 percent were based in Europe's peripheral nations, said ING's van den Broek.
Purchase Eligibility
Purchases also included notes sold last month by U.S. food processor Bunge Ltd., as well as bonds from Houston-based oilfield services provider Schlumberger Ltd., U.K.-based uranium company Urenco Ltd. and Swiss food giant Nestle SA. Securities from companies based outside of the euro region are eligible for the purchase program, provided they are issued by a local unit.
"The ECB needs to make sure the program transmits through to the economy," said Hyung-Ja de Zeeuw, an Amsterdam-based senior credit strategist at ABN Amro Bank NV. "There is a concern that when it buys notes from non-euro zone borrowers, it's just helping them, not the euro zone."
The purchase program helped cut average borrowing costs for investment-grade companies in euros to a record-low 0.77 percent last week, based on Bank of America Merrill Lynch index data. The average premium investors demand for corporate bonds rather than government debt has fallen to 118 basis points, the least in almost a year, the data show.
Six national central banks undertake bond purchases on behalf of the Frankfurt-based ECB. These institutions will lend notes to dealers in return for a fee and collateral. Similar securities-lending programs operate for sovereign, agency and covered bonds bought under ECB quantitative easing.
The corporate-bond program will still have an "adverse" effect on secondary-market trading, even with securities lending, said Bernhard Gruenaeugl, a credit strategist at Commerzbank AG in Frankfurt.
The ECB has said it will buy corporate notes with maturities ranging from six months to 30 years. Issuers can't be banks and they must have an investment grade from at least one credit-rating company.
Before it's here, it's on the Bloomberg Terminal.
LEARN MORE