Russian Consumers Still in Shock as They Cut Back on Food and Medicine
by
June retail sales shrank for record 18th month, survey shows

Russians save on medicine, buy less food as recession lingers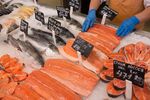 With stores from near the Arctic to the foothills of the Caucasus Mountains, Magnit PJSC would be the first to know when the Russian consumer is back. Instead, the nation's largest supermarket chain has just come across something it's never seen.
Billionaire Sergey Galitskiy's retailer, which operates almost 13,000 outlets in Russia, said the average purchase has fallen for the first time since it began disclosing the figures a decade ago, dropping 1.5 percent in the first half of 2016 from a year earlier. Retail sales in June shrank for a record 18th month, plunging 5.9 percent from a year earlier, the Federal Statistics Service in Moscow said on Tuesday.
"It's not possible for consumption to expand," said Dmitry Polevoy, chief economist for Russia at ING Groep NV in Moscow. "Salaries aren't growing or are growing much more moderately than they used to, lending is declining."
As Russia pivots from a consumer-driven growth model after the crash in oil prices, the crisis is decimating the middle class and millions are sinking into poverty. Not even better consumer confidence and stabilizing inflation are translating into stronger demand. Rather, households are hunkering down.
Food, Medicine
Almost a third of Russians now buy less food than before, while 49 percent admit they save on medicine by ignoring doctor prescriptions if the treatment is too expensive, recent surveys found. Some two-thirds say prices of goods and services bought by their families are rising at double the pace of officially reported inflation if not faster.
As more people are feeling the pinch, they are also using durable goods for longer, a trend that's spreading from cars to electronics, furniture and home appliances, according to the Russian rating company, ACRA. Real disposable incomes will continue to decline for 2 1/2 more years and risk stagnating after that, it said in a report last month.
The decline of retail sales in June exceeded the 5.4 percent median forecast of economists surveyed by Bloomberg. Real disposable incomes declined 4.8 percent, while wages adjusted for inflation unexpectedly rose 1.4 percent, according to the statistics service.
Although retail sales are set to return to growth next year and expand about 2 percent, that will be far below average gains of 6 percent in 2010-2013 and 10.5 percent in 2000-2008, according to Morgan Stanley.
Lenta, Magnit
The plight of households is coursing through the market, hurting stocks of retailers like Lenta Ltd. and Magnit. The Micex Consumer Goods and Services Index of nine stocks has fallen 3.4 percent this year, underperforming the broader Micex Index, which is up 9.2 percent. Magnit, based in Krasnodar, southern Russia, is down more than 17 percent in 2016.
Consumer distress has been a key feature of the recession in Russia that's now stretched into its second year. Unlike the downturn in 2009, when Russia supported its currency and increased pensions, authorities responded to falling oil prices this time by allowing the ruble to weaken and cutting spending.
"In the medium term, fiscal pressures coming from the subdued oil price outlook and the new government growth strategy imply that the incomes and consumption growth will be restricted," Alina Slyusarchuk and Maryia Berasneva, analysts at Morgan Stanley, said in a research note.
Risks Contained?
What's been a bigger surprise is the lack of spillovers into politics, even as a parliamentary election looms in the fall, followed by a presidential vote in 2018. President Vladimir Putin's approval rating has remained at or above 80 percent since the conflict over Ukraine erupted in March 2014. Only 23 percent of Russians say they're prepared to take part in protests if they are held in the next month or two, compared with 71 percent who won't, according to a survey conducted by the Public Opinion Fund.
One clue why is that unemployment has barely budged throughout the crisis. The jobless rate improved for a third month in June, falling more than forecast to 5.4 percent from 5.6 percent, according to the statistics service.
"Structurally low unemployment limits the political risks from the prolonged recession, making low growth rates in the medium term largely acceptable from a political point of view," said Vladimir Osakovskiy, chief economist for Russia at Bank of America Corp. in Moscow. "Despite the recession, people in general continue to have a steady flow of income."
Little relief is in sight as the government runs its widest budget deficit since 2010, opting for smaller increases in pensions and a freeze of wages for public-sector employees.
"The authorities won't bother as long as there are no political threats," Polevoy said. "And a year and a half of adjustments by the population to the stressful situation shows that there are no consequences for the government."
Before it's here, it's on the Bloomberg Terminal.
LEARN MORE