China's Stocks Retreat After Three-Week Rally on Energy Shares
Bloomberg News
China Vanke paces losses for developers after home-price data

Shanghai index's RSI crossed overbought level last week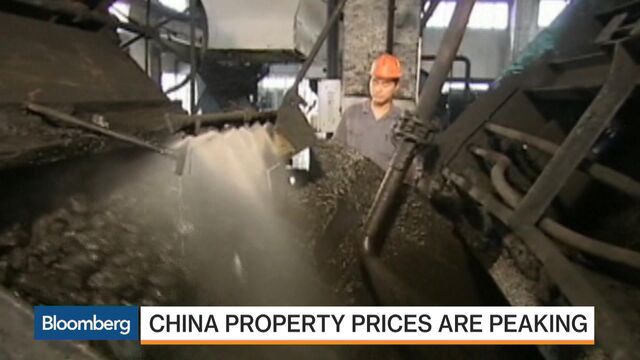 Chinese stocks fell the most in a week, led by energy and industrial shares, after the benchmark equity gauge posted three straight weeks of gains.
The Shanghai Composite Index slipped 0.4 percent at the close, the biggest drop since July 8. Yanzhou Coal Mining Co. declined for a fourth day to pace losses for a measure of energy companies. China Vanke Co. slumped to its lowest level since Dec. 1 in Shenzhen as developers retreated after data showing slowing home-price gains.
The Shanghai gauge's 14-day relative-strength index last week crossed the threshold of 70, which some investors see as a signal that a rally is about to reverse. China's economy expanded more than expected in the second quarter, according to official data released on Friday, while monthly aggregate financing, retail sales and industrial output also beat expectations.
"The market needs consolidation at this level after the recent rebound," said Wei Wei, an analyst at Huaxi Securities Co. in Shanghai. "Last week's data show the economy has basically stabilized. So we are in a fluctuating pattern and there's no risk for a significant drop in equities."

The Shanghai Composite dropped to 3,043.56, sending its 14-day RSI to 65.6. The Hang Seng China Enterprises Index added 0.5 percent at the close in Hong Kong, while the Hang Seng Index advanced 0.7 percent.
Sinopec Oilfield Service Corp. dropped 2.4 percent and Yanzhou Coal lost 3.2 percent. China Railway Construction slumped by the 10 percent daily limit after 1.24 billion shares became available for trading from Monday after the expiry of a year-long lock-up period. Measures of energy and industrial companies fell at least 1 percent.
Housing Data
China Vanke Co. retreated 2.6 percent in Shenzhen, while China State Construction Engineering Corp. lost 0.9 percent in Shanghai. New-home prices excluding government-subsidized housing climbed in 55 cities in June, down from 60 in May among the 70 tracked, the National Bureau of Statistics said Monday. Prices dropped in 10 cities, compared with four a month earlier.
Official figures released on Friday showed China's gross domestic growth expanded by a more-than-expected 6.7 percent in the second quarter from a year earlier, suggesting the economy is responding to stepped up policy support. Aggregate financing, the nation's broadest measure of new credit, rose to 1.63 trillion yuan in June, indicating that the nation continues to rely on old growth engines.
Margin traders' holdings of shares purchased with borrowed money stayed near the highest level in two months last week, with the outstanding balance of margin debt on the Shanghai Stock Exchange staying at around 480 billion yuan ($72 billion).
— With assistance by Shidong Zhang
Before it's here, it's on the Bloomberg Terminal.
LEARN MORE