China Home Price Gains Cool as Smaller Cities Impose Curbs
Bloomberg News
New-home prices gained in 55 cities in June versus 60 in May

June home sales increase is the slowest pace so far in 2016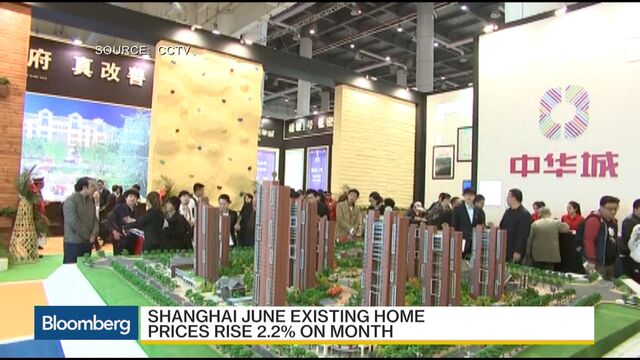 China's home-price gains tapered off last month, as second-tier cities joined some of the nation's largest hubs in imposing housing curbs to cool surging prices.
New-home prices excluding government-subsidized housing climbed in 55 cities in June, down from 60 in May, among the 70 tracked, the National Bureau of Statistics said Monday. Prices dropped in 10 cities, compared with four a month earlier. They were unchanged in five cities in June.
A surge in home prices showed signs of slowing after more regional hubs followed top cities Shanghai and Shenzhen in imposing curbs designed to stem a surge in property prices. Local authorities raised mortgage downpayment requirements for some homes in Xiamen, a southern port city in the Fujian province, and Hefei, the provincial capital of Anhui, where housing prices led gains in May.
"We probably won't see any abrupt decline in prices or sales this year, but the outlook for next year is pretty blurry," Alan Jin, a Hong-Kong based analyst at Mizuho Securities Asia Ltd., said by phone. "In those cities where prices jumped, pent-up demand has almost been fully released. The demand, from either end users or speculative investors, is not unlimited."
Transactions 'Peaked'
Home sales moderated for a second straight month in June, with a slower increase in property-development investment, raising questions on the sustainability of a rally fueled by credit stimulus from the government. The value of homes sold rose 22 percent last month from a year earlier, according to Bloomberg calculations based on data the National Bureau of Statistics released Friday. The increase compares with a 32.9 percent increase the previous month and is down from a year-on-year gain of 71 percent recorded in March.
Property transactions "peaked" in the second quarter, as pent-up demand released under intensive stimulus last year ran its course, said Harrison Hu, chief economist for Greater China at Royal Bank of Scotland Group Plc in Singapore. 
Supporting Economy
A rally in the housing market has supported China's overall economic growth this year, even as it shows some signs of flagging. Economic output by real-estate brokers surged 8.8 percent from a year earlier in the April-to-June period, while construction activities jumped 7.3 percent, data from the National Bureau of Statistics showed Saturday. The nation's gross domestic product grew 6.7 percent in that period.
Out of 55 cities with price gains last month, 33 had slower increases than in May, leading overall growth to "contract," according to the statistics bureau. The average new-home price rose 0.71 percent in June from May, down from the 0.84 percent in the previous month, according to Bloomberg calculations based on government data.
Price gains in some second-tier hubs cooled from record-high paces in the past two months. Hefei led gains in June with a 4.9 percent jump from the prior month, slowing from 5.1 percent in May. The port city of Xiamen followed, with June prices climbing 4.7 percent, down from May's record-high increase of 5.5 percent.
Values rose 2.6 percent in Shenzhen, up from the previous month's 0.5 percent growth, while Shanghai saw a gain of 2.4 percent, up from 2.3 percent in May. The two cities, where residential-price gains topped the nation earlier this year, tightened buying criteria for non-resident homebuyers, raised down-payment requirements for some second homes and banned unregulated lending.
"Inventory in Shenzhen remained quite low, leading the prices to stay high even when the sales volume continued to trim," said Liu Feifan, a Shenzhen-based analyst at Guotai Junan Securities Co.
Prices in June gained in 73 cities among the 100 tracked by SouFun Holdings Ltd., the owner of China's biggest property website, compared with increases in 74 the previous month. Average new-home prices rose 1.3 percent, sliding from the 1.7 percent seen the previous month.
— With assistance by Emma Dong
Before it's here, it's on the Bloomberg Terminal.
LEARN MORE