Carney's Brexit Reaction on Stimulus Critiqued by Lombard Street
by
BOE unexpectedly held rates last week, hinted at cut in August

Martin Weale says he's unsure if he'll vote for action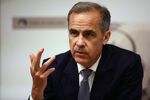 Mark Carney endured months of criticism from politicians about his comments in the buildup to Britain's Brexit referendum. Now he's under fire for what he's done since the vote.
In a note on Monday, economist Charles Dumas at Lombard Street Research said the Bank of England governor preempted the Monetary Policy Committee by saying the economy will need stimulus because of the June 23 vote to leave the European Union. Dumas also questioned the merit of having a foreign head of a central bank.
Canadian-born Carney, who holds an Irish passport, was appointed by former Chancellor of the Exchequer George Osborne in 2013. Pro-Brexit politicians criticized the governor in the run-up to the referendum for meddling too much in the debate. Carney -- who warned that Brexit could cause a recession and was the biggest risk to financial stability -- insisted the central bank remained impartial.
The criticism from politicians culminated in lawmaker Jacob Rees-Mogg calling for the governor to be sacked. Dumas said Carney's appointment was a "manifestation of flashy globalization." As a foreigner, he's "liable to misjudge the nuances of British political discourse, and perhaps be judged unfairly even if he gets it right," Dumas said.
'Excellent Job'
Nevertheless, the U.K.'s newly-formed government so far appears relatively friendly toward him. Philip Hammond, who became chancellor of the exchequer last week, said on July 14 that Carney is doing an "excellent job."
Carney said before the referendum that a weaker pound because of a Brexit vote would mean policy makers having to choose between tighter policy to stabilize inflation or stimulus to boost output. After the vote -- and a more than 10 percent drop in sterling -- he signaled a preference for the latter. 
In a June 30 speech, he said that the economic outlook "has deteriorated and some monetary policy easing will likely be needed over the summer" -- comments that Dumas says encroached on the nine-member MPC's independent assessments.
The governor's "pre-Brexit warning was acceptable, given his responsibility for financial stability," Dumas said. "But his later, conflicting comment appeared to preempt the Monetary Policy Committee's judgment."
Minutes of the MPC's interest-rate decision published last week showed most policy makers agreed easing would be required in August. Chief Economist Andy Haldane said after the meeting that he will probably vote for a cut in August, though policy maker Martin Weale said Monday that he needs firmer evidence the economy is slowing before doing so himself.
Before it's here, it's on the Bloomberg Terminal.
LEARN MORE