Boris Johnson Deploys French in EU Debut as Humility Tops Humor
by
U.K. foreign secretary goes to Brussels for first EU meeting

Johnson showed he wants to cooperate with EU, ministers say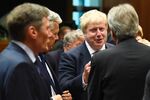 Some of Boris Johnson's European counterparts were clearly bracing for his arrival on the Brussels diplomatic scene.
As the lead Brexit campaigner and with a history of making undiplomatic remarks, the reputation of Britain's new foreign secretary preceded him. After all, it's only two months since he compared the European Union to Hitler.
"He didn't apologize," French Foreign Minister Jean-Marc Ayrault told reporters in Brussels on Monday. But he did turn up "with some humility," said Ayrault, who last week greeted news of Johnson's appointment by accusing him of lying about the benefits of an EU exit during the U.K.'s referendum campaign.
It was an inauspicious start for Britain's chief diplomat. Johnson had been due to attend a dinner of his EU counterparts in Brussels on Sunday night. Instead the event, originally scheduled to discuss the consequences of Brexit with his predecessor, Philip Hammond, was canceled.
Johnson's plane was delayed in any event after it had to make an emergency stop en route to the Belgian capital. He made do with a short "nightcap" with the bloc's foreign policy chief, Federica Mogherini, after arriving late in the evening on a replacement jet, an EU official said.
Once there, some were charmed at his first outing among EU foreign ministers. Johnson's behavior was respectful, diplomatic and statesmanlike, according to diplomats with knowledge of the meeting, which dealt with weighty topics like the attempted coup in Turkey and the Nice terrorist attack. Behind closed doors, he tried to extend the hand of friendship still further by speaking partly in French, according to one EU official.
'We Are Glad'
Back in May, speaking to the Sunday Telegraph, Johnson said that "Napoleon, Hitler, various people" in European history had tried to recreate the "golden age of peace and prosperity" under the Romans, and the EU was the latest incarnation.
Gone were any such references once he touched down in Brussels.
Johnson "is manifestly very determined to continue cooperating with the European Union," said Belgian Foreign Minister Didier Reynders, one of 19 national representatives whom Johnson met one-on-one during the day. "We are glad about that."
Johnson knows Brussels well. He spent a period in the early 1990s working there as a correspondent for the Daily Telegraph newspaper while his father, Stanley, was a member of the European Commission and European Parliament for about 20 years.
"Brexit must be Brexit, but that in no sense means the end of Britain's commitment and participation in Europe and our support for all sorts of foreign ventures, particularly in the foreign policy field," Johnson said as he left the meeting.
As for his reception from his fellow foreign ministers, Johnson was diplomatic to the end: "Very good, thank you."
Before it's here, it's on the Bloomberg Terminal.
LEARN MORE