Bond Investors in Italy Counting Winnings After U.K. Brexit Vote
By and
Baring, Pimco, Pioneer positive on Italy's bonds after Brexit

View based on expectations that ECB stands ready to act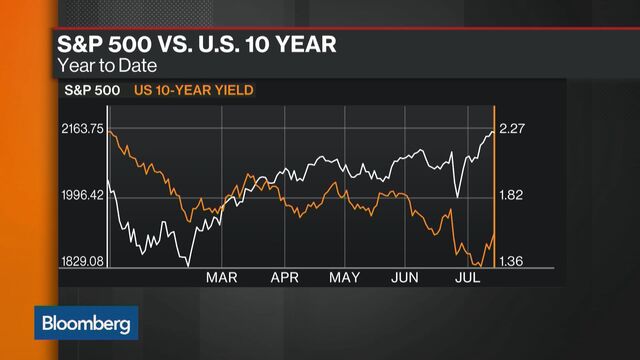 As Italian bank shareholders mourn their losses, government bond investors are counting their winnings.
Money managers stepped up purchases of Italian and peripheral bonds after the U.K. voted on June 23 to exit the European Union, narrowing the spread between Italian 10-year securities and their German peers to its tightest since the start of that month.
Investors are betting that the vacuum left by Britain's shock decision to leave the EU will force the European Central Bank to support more fragile economies, bolstering Italian bonds even as concerns mount over the nation's financial system. Italian banking stocks have lost about 17 percent of their value since the referendum because of the lenders' mountain of bad loans and need to recapitalize.
"In a curious way, restoring balance sheets through state aid and finding support from the ECB is more likely after Brexit than before," said Alan Wilde, head of fixed income at Baring Asset Management in London, who bought Italian bonds after the referendum.
ECB purchases of Italy's BTP debt increased by 1.5 percent in June while the central bank's buying of Spanish debt climbed by 1.2 percent, according to Royal Bank of Scotland Group Plc calculations based on ECB data.

The extra yield, or spread, that investors receive for holding Italian 10-year bonds instead of benchmark German debt widened to 191 basis points the day after the U.K.'s vote. It was at 126 basis points at 12:44 p.m. Rome time on Monday, up from 125 basis points Friday.
Several more firms, including Pacific Investment Management Co LLC and Pioneer Investments, have a positive view of Italian and Spanish securities, portfolio managers and analysts said in interviews with Bloomberg.
"We went long Italy vs bund after Brexit, " said Tanguy Le Saout, head of European fixed income at Pioneer Investments in Dublin, referring to German debt. "We expect the ECB to act as a backstop in case of need."
Investors expect the ECB to tweak the rules currently in place for its bond purchases, the so-called capital key structure of purchase.
Sufficient Pool
Loosening those guidelines would ensure a sufficient pool of securities are eligible for quantitative easing, after investor flight into safe havens pushed down yields on some sovereign debt too far to meet current criteria.
Pioneer's Le Saout said in a July 6 interview "we saw ECB buying BTPs more than usual."
As the U.K. divorce from the EU plays out, the outlook for peripherals is set to remain positive, economists say.
Russel Matthews, portfolio manager of European bond strategies at BlueBay Asset Management LLP in London expects a "patch" to be put on the problems in the Italian banking industry over coming weeks. "This will give a meaningful lift to peripheral government bonds," he said in a note Monday.
Economists in a Bloomberg survey predict the European Central Bank will keep policy unchanged on Thursday but announce fresh measures before the end of the year.
Sign up to receive the Brexit Bulletin, a daily briefing on the biggest news related to Britain's departure from the EU.
Frederik Ducrozet, senior economist at Pictet Wealth Management expects the ECB to change its bond-buying program either in July or in September.
"There will be a response eventually that is likely to support peripheral debt," he said.