BlackRock Says Record Aussie Bond Rally to Overwhelm S&P Warning
By
Ten-year yield may tumble to 1.5%, BlackRock's Miller says

Altius cautions that Australia lacks U.S.'s reserve status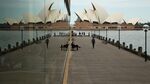 BlackRock Inc., the world's largest money manager, says Australia's historic bond rally would withstand S&P Global Ratings following through on a threat to cut the nation's AAA credit score.
Australian bond investors may want to look no further than the record-setting Treasury rally that followed the U.S. downgrade in 2011. U.S. bonds and the dollar rose after S&P stripped the world's largest economy of its top rank as demand for the safety of the world's reserve currency overshadowed the rating change. Treasuries were also boosted as Europe's struggle to save its currency union spurred a rush for the safest assets.
Australia's bonds are also seen as a haven as S&P criticizes the government, and the central bank is left with the burden of driving the economy amid a stalemate in Parliament over how to trim the deficit. What's more, investors are scooping up Australian debt as they seek alternatives to negative yields in Europe and Japan, where policy makers are trying to revive inflation amid sputtering global economic growth.
"I see bigger risks to the downside for growth in Australia rather than the upside," said Stephen Miller, the Sydney-based head of fixed income in the nation for BlackRock, which manages $4.9 trillion worldwide. "Cuts in the policy rate are ultimately coming. Australia remains, whether it's AAA or AA+, a high-credit-quality sovereign. It won't slow the flight of money."
Australia's 10-year bond yielded fell 5 basis points to 1.94 percent Tuesday at 1:46 p.m. in Sydney, as investors increased bets on central bank rate cuts. That compared with 1.56 percent for similar-maturity Treasuries, a difference of about 38 basis points.
The spread to the U.S. will narrow to a range of zero to 25 basis points during the next six to 12 months, BlackRock's Miller said. The 10-year Aussie yield dropped to a record 1.84 percent earlier this month.
For an article on the options available to the Reserve Bank of Australia, click here.
The biggest bond markets demonstrate a rating downgrade isn't enough to derail a rally.
The 10-year Treasury note yielded 2.56 percent when S&P cut the nation's rating on Aug. 5, 2011. It tumbled below 2 percent for the first time a month later. It reached a record low of 1.318 percent on July 6.
Japan, Germany
S&P has brought Japan's rank down by four levels from AAA in 2001, and the 10-year yield went on to slide to an unprecedented minus 0.3 percent on July 8.
With Germany's 10-year yield at about zero and central banks in both Japan and Europe considering ways to add to monetary stimulus to support their economies, the hunt for income will support Australian bonds, BlackRock's Miller said. Growth in the Group-of-Eight economies will slip to 1.5 percent in 2016, which would be the slowest pace in three years, based on Bloomberg surveys of analysts.
S&P this month cut its outlook on Australia's AAA credit rating to negative from stable and warned the budget deficit may persist for several years without more forceful fiscal policy decisions. The odds of a reduction within two years are about one in three, the company said.
'Too Complacent'
Investors need to remember Australia's dollar isn't a reserve currency, and its bonds won't necessarily rally, said Bill Bovingdon, chief investment officer at Altius Asset Management in Sydney, who has 30 years of experience in fixed income.
"It may be a little bit too complacent to think that that's a prospect for Australia if we do indeed get a downgrade," he said. "With the U.S. being a reserve currency and being a benchmark bond market for the world, it's in a much more enviable position." Ten-year Australian yields may rise to 2.5 percent by year-end, according to Bovingdon.
The bulls can point to slowing inflation as reason to buy bonds. The weighted median consumer price index, a price gauge monitored by the Reserve Bank of Australia, rose 1.4 percent in the first quarter. That was the weakest pace based on government data that go back to 1983 and less than the central bank's target band of 2 percent to 3 percent.
There's an 80 percent the RBA will cut its benchmark by year-end, based on swaps data compiled by Bloomberg. The figure has jumped from about 50 percent three months ago. Policy makers lowered the rate to a record 1.75 percent in May.
Ten-year yields will fall below 1.5 percent in 2017, said Hideaki Kuriki, a debt investor at Sumitomo Mitsui Trust Asset Management in Tokyo, which oversees $77 billion.
"Australian yields will go down, accompanied by the inflation rate and demand from worldwide investors," he said. "Demand for high-liquidity, high-yield bonds is very high. Australian bonds are precious bonds."