BofA Trading Tops Estimates as Moynihan Vows Deeper Cuts
by
Fixed-income trading revenue rises 22% to $2.62 billion

Accounting charge of about $1 billion drags profit lower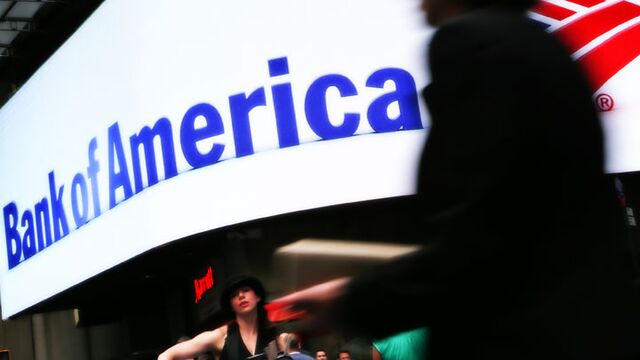 Bank of America Corp. posted higher profit in each of its four main businesses as bond-trading revenue increased more than analysts estimated and expenses fell.
The second-biggest U.S. bank by assets led financial stocks higher Monday after reporting earnings per share of 36 cents, beating the 33-cent average estimate of analysts surveyed by Bloomberg. Net income dropped 21 percent to $4.23 billion as the company booked a roughly $1 billion accounting charge, Bank of America said in a statement.

Chief Executive Officer Brian Moynihan has been cutting costs to grapple with an extended period of historically low interest rates. Expenses dropped 3.3 percent to $13.5 billion in the second quarter as the bank eliminated 2,667 workers. The pullback will continue over the next 2 1/2 years, Moynihan told analysts on a conference call, with a target of $53 billion in annual expenses by the end of 2018. Non-interest expenses were $57.2 billion last year. 
"Many of you give us credit from having managed expenses from $70 billion five years ago" to the mid-$50 billion range today, Moynihan said. "The question is, can we do more?"
Further job cuts will come from "hard work" and automation, even as the bank continues to invest in its sales force, he said, adding that operational costs such as data processing and telecommunications will decline. "Every single area is moving here," and advances in fixed-income and equities electronic trading mean more jobs can be eliminated, Moynihan said.
Bank of America, based in Charlotte, North Carolina, had 210,516 full-time employees as of June 30, a 2.8 percent drop from a year earlier. 
Shares Jump
The company's shares advanced 3.3 percent to $14.11 at 4:01 p.m. in New York, the biggest gain in the 92-company S&P 500 Financials Index, which rose 0.4 percent. Bank of America has fallen 16 percent this year.
"The expense-reduction story can be a catalyst for stock outperformance," Goldman Sachs Group Inc.'s Richard Ramsden said in a note after results were released.
Return on tangible common equity fell to 9.24 percent from 12.3 percent a year earlier. Revenue dropped 7.1 percent to $20.4 billion.
Efficiency Ratio
The company reported a 66.1 percent efficiency ratio, a measure of how much it costs to generate a dollar of revenue, for the second quarter, worse than the 63.6 percent reported last year, according to a regulatory filing. With adjustments included for interest-rate moves and risk, Moynihan said the second-quarter ratio was 62 percent, down from the low 80s over the past several years.
The ratio is used to gauge management's prowess at controlling costs. A figure in the mid-50s or lower is typically regarded as good performance.  
Moynihan declined to set a target for the ratio in coming quarters. Chief Financial Officer Paul Donofrio told investors at a conference in May that the bank wants its adjusted ratio to be 60 percent.
The results, "while noisy, reflected a number of items that surprised positively," Steven Chubak, a Nomura Holdings Inc. analyst, wrote in a note. Those included better fee income and a beat in trading revenue.
Bond Trading
The trading division, where Chief Operating Officer Thomas Montag ordered cost cuts earlier this year, reported a 42 percent profit gain, to $1.12 billion. The bank generated $2.62 billion from bond trading, a 22 percent increase, beating the average estimate by about $300 million. Equity-trading revenue was $1.09 billion, a 7.6 percent drop that matched estimates. Total trading revenue rose 12 percent to $3.7 billion, higher than the "mid-single digits" improvement that Moynihan told investors to expect in June.
The trading gains mirrored results at JPMorgan Chase & Co. and Citigroup Inc., which reported earnings last week that beat estimates on higher fixed-income revenue. Wall Street is rebounding from a punishing first quarter, when trading revenue plunged at the five largest U.S. banks from a year earlier.
The fixed-income business benefited in the second quarter from "good client flows in rates and currency," as well as strong municipal-securities trading, Donofrio said on a call with journalists. The U.K. referendum to leave the European Union generated volatility that accounted for some of the revenue increase, and the global-markets unit posted the best second-quarter revenue in five years, Donofrio said.
Mortgage Results
Consumer banking profit for the second quarter climbed 3.4 percent to $1.72 billion. Mortgage-banking income declined 69 percent to $312 million and fees collected from credit cards declined less than 1 percent to $1.46 billion.
Net interest income fell 12 percent to $9.2 billion. Net interest margin, the difference between what it makes on loans and pays for funds, fell 0.02 percentage point from the first quarter to 2.03 percent. It was 2.37 percent in the second quarter of 2015.
The revenue and profit results include the impact of an accounting adjustment the bank is required to take when long-term interest rates change. The accounting procedure Bank of America uses -- which is unique among its Wall Street peers -- requires a charge to be taken when long-term yields decrease the value of the mortgage-backed securities held in its investment portfolio. The charge flips when yields increase, resulting in a gain.
The adjustment for amortization this quarter was about $1 billion, higher than the $783 million average estimate of six analysts surveyed by Bloomberg. In the second quarter, the 10-year Treasury yield fell 30 basis points to 1.47 percent.
Donofrio said that the bank is considering making a change that would eliminate the need for the charge.
"It just strikes me that this accounting election is a little bit inconsistent with our broader strategy," he said on a call with journalists. "We've created a company that is fundamentally transformed since the financial crisis, that is much less risky, much less volatile, whose earnings are much more consistent."
Moynihan, 56, spent most of his tenure wrestling with legal costs tied to his predecessor's acquisitions of Countrywide Financial Corp. and Merrill Lynch & Co. Last week, the bank dissolved the business segment it created in 2011 to house delinquent mortgage loans, putting more distance between the firm and its woes from the financial crisis.
Before it's here, it's on the Bloomberg Terminal.
LEARN MORE