Ax-Wielding Afghan Wounds Four in Attack on German Train
By and
No motive immediately cited by police in southern Germany

Three victims seriously hurt, one suffers minor injuries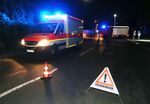 A 17-year-old Afghan refugee wielding an ax and a knife attacked passengers on a commuter train in southern Germany, injuring four people before being shot dead by police while trying to escape.
Authorities are investigating the motive for the assault, which left three victims seriously injured, police spokesman Fabian Hench said by phone. One other person was slightly hurt, while 14 people escaped without injury, according to police. Some of the victims were members of a tourist group from Asia, Bild-Zeitung reported.
The assailant, who arrived in Germany unaccompanied several months ago, was being cared for by a foster family in nearby Ochsenfurt, Bavarian Interior Minister Joachim Herrmann said in an interview on ARD television. The train was on an evening run from the town of Treuchtlingen to the city of Wuerzburg. One passenger reported that the attacker shouted "Allahu Akbar," or "God is great," during the attack, Herrmann said. A handmade Islamic State flag was later found in the youth's room, according to the minister.
Acting Alone
The teenager "was alone in the train, he committed these acts alone," Herrmann said. "At the moment it is being determined what his motives might have been."
Germany took in more than 1 million refugees fleeing conflict and poverty last year, by far the largest share among European Union countries. Bavaria was a main entry point for thousands arriving daily after passing through Austria and eastern European countries.
Chancellor Angela Merkel's open-door policy toward refugees has been criticized by some political leaders including Bavarian Premier Horst Seehofer, who say the influx is more than the country can cope with. While ordinary Germans have flocked to their aid, volunteering to help house and integrate the new arrivals, public opinion has been tempered by crimes associated with migrants including mass sexual assaults on New Year's Eve in Cologne. Refugees have also suffered abuse at the hands of Germans.
Monday's attack came days after a 31-year-old Tunisian plowed into a crowd of revelers celebrating Bastille Day in coastal town of Nice in France, killing 84 people and wounding more than 200. While IS claimed that act was carried out by one of its "soldiers," French authorities have said they have no evidence the truck driver was tied to the terror group.
Lone-wolf attacks are a phenomenon confounding security officials across the globe trying to stem the influence of IS and other terror groups.
Before it's here, it's on the Bloomberg Terminal.
LEARN MORE