Stocks Take a Breather as Earnings Disappoint, Dollar Advances
by and
S&P 500 slips from record as Netflix tumbles, J&J climbs

Dollar strengthens as housing data surpasses forecasts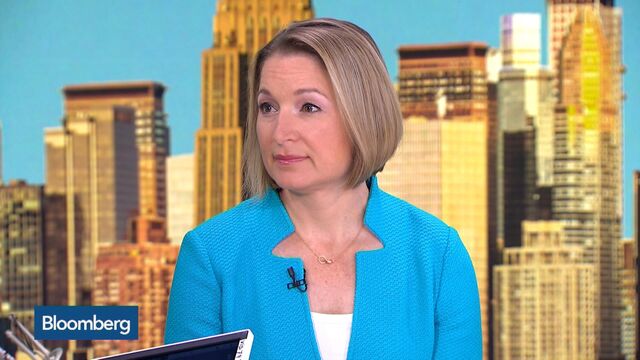 Corporate earnings set the tone on global equity markets, with stocks from Europe to the U.S. slipping after a three-week run added $4.6 trillion in value worldwide. Treasuries rose with gold on haven demand.
Most U.S. stocks slipped after benchmark indexes closed at fresh records, as Netflix Inc. led losses amid disappointing subscriber growth. Results from Johnson & Johnson helped the Dow Jones Industrial Average to its longest rally since 2013. European stocks down fell from a three-week high, while emerging-market shares halted an eight-day advance. The dollar rose to a six-week high after U.S. housing starts rose more than forecast, while the pound extended losses. Crude fell to a two-month low.

Investors are taking stock after the post-Brexit rally, as corporate earnings rekindled concern that sluggish global growth persists. The IMF scrapped its forecast for a pickup in this year, citing Britain's secession vote, and warned the damage could worsen. While the U.S. earnings season got off to a positive start with companies including JPMorgan Chase & Co. topping estimates, Netflix Inc. tumbled after yesterday saying subscriber growth slumped to a three-year low.
"We hit records and now it's kind of cautiously moving forward," Larry Peruzzi, managing director of international equities at Mischler Financial Group Inc. in Boston, said by phone. "The economic numbers and earnings continue to come in but it's definitely a slow trading environment. It's a combination of Brexit, July and August always being a little light, and whenever the indexes are at higher levels people look for that next driver."
For more in the IMF's outlook for the global economy, click here.
Stocks
The S&P 500 Index declined 0.1 percent at 4 p.m. in New York, after notching its fifth record in the prior six sessions. The Dow average rose 0.1 percent, extending a rally to eight days, its longest since March 2013. The 30-stock index has added 3.7 percent in the rally and closed at six straight records.
Johnson & Johnson climbed after reporting quarterly profit that beat analyst estimates, and Goldman Sachs Group Inc. edged lower, even after its earnings jumped. IBM Corp. advanced after sales increased for the first time in a key unit. Netflix tumbled 13 percent on weaker-than-anticipated subscriber growth.
The Stoxx Europe 600 slid 0.4 percent in volume that was 33 percent below the 30-day average. Commodity producers fell the most among 19 industry groups, as Rio Tinto dropped 3.5 percent after its second-quarter iron ore production rose less than expected. Akzo Nobel slid 4.3 percent after its sales misses forecasts.
The MSCI Emerging Markets Index fell 0.4 percent after rising 6.2 percent in the previous eight sessions and sending valuations to the highest since May 2015. Hong Kong-traded Chinese stocks fell as valuations reached a peak for the year. Russian stocks slid to a one-week low as Brent crude extended declines into a second day. Shares in South Africa fell the most since July 6.
Currencies
The Bloomberg Dollar Spot Index advanced 0.5 percent. The housing data showed economic reports in the U.S. continue to signal expansion, setting the world's biggest economy apart from slowing growth elsewhere around the globe. The greenback gained more than 1 percent versus the Australian and New Zealand dollars, the South African rand and the Mexican peso.
The pound fell 1.3 percent to $1.3082. The IMF cut its 2017 growth forecast for the U.K. to 1.3 percent from 2.2 percent on Brexit.
Turkey's lira plunged the most in emerging markets as the government broadened a post-coup purge of the country's institutions, the central bank cut interest rates and Moody's Investors Service said it may lower the country's credit rating to junk. The currency dropped 2.2 percent.
Commodities
Oil closed at the lowest level in more than two months in New York as the dollar rose and global crude markets were deemed comfortably supplied despite threats to output. Futures slipped 1.3 percent to settle at $44.65 a barrel in New York.
Silver fell for a fourth straight session, capping the longest slump in more than eight months, as Citigroup Inc. said investor demand for the metal may sputter in the second half of the year.
Silver futures for September delivery slipped 0.3 percent to end at $20.007 an ounce in New York. Gold for August delivery rose 0.3 percent to $1,332.30 an ounce.
Bonds
U.S. Treasuries due in a decade gained for the first time in four days, pushing their yield down by three basis points to 1.56 percent. The yield reached 1.60 percent in the last session, the highest it's been since June 24, when the Brexit vote count was announced.
Similar-maturity bonds in Australia also advanced, cutting their yield by seven basis points to 1.92 percent. New Zealand's yield fell seven basis points to 2.26 percent.
Before it's here, it's on the Bloomberg Terminal.
LEARN MORE