business
Turkish Lira Rises After Failed Coup as Stocks Slide With Bonds
By
Borsa Istanbul 100 Index retreats the most in three years

10-year yields soar most since 2013, corporate bonds decline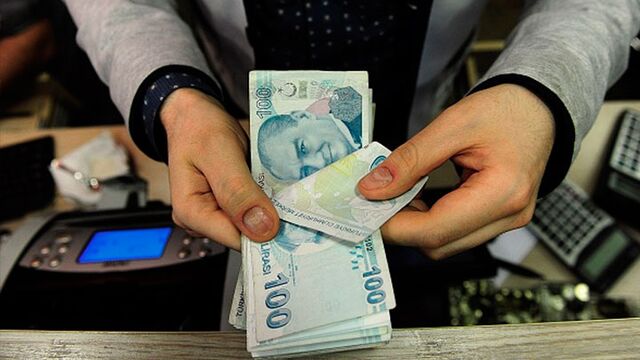 Turkey's lira rebounded from its biggest retreat in eight years after the government thwarted a coup attempt that erupted Friday. Bonds tumbled as the cost of insuring the country's debt soared, while the nation's largest lenders led a slump in stocks.
The currency jumped as much as 3 percent as traders said local investors were selling dollars to take advantage of Friday's slump. It was trading 1.4 percent stronger at 2.9731 per dollar as of 5:43 p.m. in Istanbul, trimming Friday's 4.6 percent decline. The Borsa Istanbul 100 Index, which had closed before the clashes began, dropped 7.1 percent, the most in three years. Yields on 10-year government bonds jumped 64 basis points, their biggest advance since 2013.

The crisis has undermined a recovery in Turkey's assets that was spurred by a drop in borrowing costs as inflation eased and investors became confident that central banks around the world will keep pumping cash into the biggest economies. That means any rebound this week driven by bargain-hunting will probably be short-lived, given a resurgence of political risk, according to Piotr Matys, a strategist for emerging-market currencies at Rabobank in London.
"The damage has been done," Matys said, adding that events were "seriously challenging" an earlier forecast that the lira would stay below 3 per dollar this year. "We expect Turkish assets to be vulnerable in the short term and the lira to remain volatile in the coming days. If the rule of law and checks and balances are seriously undermined in the coming months, this could lead to capital outflows."
The three-month implied volatility on the lira, estimating future price swings, spiked 177 basis points to 12.6, the most in more than two months.
The Istanbul index of bank shares dropped 8.4 percent, its biggest decline since 2013. HSBC Holdings Plc said in research published Monday that political developments may affect lenders' access to foreign funding. Investors also fled stocks linked to Turkey's tourism industry, already reeling from a series of terrorist bombings across the country. Airport operator TAV Havalimanlari Holding AS fell 17 percent, the most on record. Turkish Airlines, also known as Turk Hava Yollari, sank to a 2012-low.
Bonds also fell, with the yield on Turkey's dollar bond due February 2045 rising 21 basis points. The cost of insuring exposure to Turkish debt rose, with five-year credit default swaps widening 23 basis points to 248 after falling to the lowest level in a year last week.
Corporate bonds declined. Appliance-maker Arcelik AS's 350 million euros of September 2021 notes dropped two cents to 102 cents, according to data compiled by Bloomberg. The bonds were the biggest decliners in Bank of America Merrill Lynch's euro-denominated junk-bond index, apart from Softbank Group Corp. notes, according to data compiled by Bloomberg. Turkish bank Turkiye Vakiflar Bankasi TAO's May 2021 euro bonds fell the most since their issuance in April.
Goldman Sachs
Goldman Sachs Group Inc. lowered its forecasts for the lira over the weekend, saying the currency will slide to 3.10 per dollar within three months, revising its earlier forecast of 2.95.
"While the immediate level of uncertainty has been sharply reduced post the failure of the takeover and a renewed coup appears unlikely, we expect the level of political risk will remain elevated and hence have implications for the economy," Clemens Grafe, a Moscow-based economist at Goldman, wrote in a report.
To read more about the fallout from Turkey's coup attempt, click here.
In an effort to quell investor concern, policy makers said Sunday they will provide unlimited liquidity to banks and would support the lira by removing limits on foreign currency deposits that commercial lenders are allowed to use as collateral. While the coup attempt may have a negative impact on Turkey, especially on tourism, reforms will now be easier to carry out, Deputy Prime Minister Mehmet Simsek said in an interview with Bloomberg HT from Ankara aired on Monday.
The central bank is scheduled to hold a policy meeting Tuesday. Economists in a Bloomberg survey are predicting a 25 basis point cut to the overnight lending rate while traders are scaling back bets for a reduction. Swaps that gauge interest rate expectations one month from now climbed 41 basis points to 9 percent, matching the bank's overnight-lending rate of 9 percent.
Stocks, Bonds
The Turkish central bank has lowered borrowing costs by 175 basis points since March as slowing inflation cleared the way for looser monetary policy, supporting the rally in Turkish assets. Before the market retreat on Monday, Turkish equities had risen more than 15 percent during 2016 and the yield on Turkish five-year local currency bonds had dropped more than every other emerging-market nation except for Brazil.
"Foreign investors currently own about 22 percent of the local bond market in Turkey. So this faces a significant outflow risk if investors decide that the increased political risk premium now requires a much lower exposure to Turkish assets," HSBC said.
Thousands of army officers and judges were swept up in a nationwide wave of arrests as Erdogan and the ruling AK Party moved to cement power after the coup. While some investors express concern that the president's quest to centralize power leaves the nation vulnerable to social unrest, others see his survival as the surest bet of stability for a NATO ally entangled in the war in neighboring Syria and in conflicts with Kurdish separatists.
The market could demonstrate a "sanguine take on events over the weekend, given that security has been restored," Timothy Ash, a credit strategist at Nomura Plc. in London, said in an e-mailed note. "This could offer the prospect of a more stable political environment as a result -- albeit leaving longer term concerns over the course of economic policy and democracy."
— With assistance by Selcuk Gokoluk
Before it's here, it's on the Bloomberg Terminal.
LEARN MORE