Top Brexiteers Espouse Global Role for Britain Outside the EU
by
Davis sees potential compromise on single market, migration

Boris Johnson says Brexit an opportunity for more global role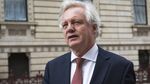 With just over three weeks since the Brexit vote, some of its chief advocates -- who now find themselves in government -- are putting forward their plans for a more outward-looking Britain.
Chief Brexit negotiator David Davis is confident that the U.K. can retain access to the single market while tightening restrictions on migration. Newly appointed Foreign Secretary Boris Johnson said Brexit is an opportunity for Britain to be "truly global." Trade Secretary Liam Fox has started lining up deals around the world, ready to be put into place once Britain divorces from the bloc.
The comments echo the argument put forward during campaigning that Britain could play a more influential role on the global stage outside the European Union. Politicians in Prime Minister Theresa May's newly formed government now face the task of turning that idea into reality. They're faced with oncoming exit negotiations with EU leaders who say they're unlikely to compromise on restricting migration to the U.K. if the country is to retain access to the single market.
The European Commission "must realize the British public have made it clear where they stand on regaining control of our borders," Davis, who was appointed last week, said in an interview with the Mail on Sunday. "At the end of the day the initial anger will be replaced by common interest."
That cements a key battle line in the negotiations over Britain's relationship with the European Union. German Chancellor Angela Merkel said last week that the U.K. government should be given "time to thoroughly think" about what kind of relationship it wants with the EU. Nevertheless, she and other European leaders have agreed that there can be no access to the single market without the associated freedom of movement.
Frosty reception
Johnson -- who wrote in the Telegraph that the U.K. "should be more outward-looking, more engaged, and more active on the world stage than ever before" -- travels to Brussels Monday, where he will participate in the EU's foreign affairs council. He may receive a frosty reception, after French Foreign Minister Jean-Marc Ayrault said that Johnson "lied a lot to the British people" during the referendum campaign and now "finds himself with his back against the wall."
While the U.K. can't make formal trade deals with other countries until it has left the bloc, Fox said he is starting to line them up to be signed once it has. In an interview with the Sunday Times, Fox said he is "scoping about a dozen free-trade deals outside the EU to be ready for when we leave," and that he will fly to the U.S. next week.
Fox is lining up those deals based on a timeline of Britain triggering Article 50 of the Lisbon Treaty by the end of the year, which would start formal exit negotiations with the EU in time to leave by Jan. 1, 2019.
May has previously indicated that Article 50 would probably not be invoked until next year. After meeting with Scottish First Minister Nicola Sturgeon she said that she won't do so until she has a U.K.-wide approach to exit negotiations.
In an interview with Andrew Marr on the BBC, Sturgeon said that Scotland is "in a very strong position" when asked whether it would have a veto over the timing of starting exit negotiations with Europe. She also said it's possible that Scotland remains both a part of the U.K. and the EU, though she could call a second referendum on Scottish independence if she's unable to protect Scotland's relationship with the EU within the U.K.
Despite the apparent difficulties facing May's government, Britons appear to have high hopes for her leadership. Nearly half of respondents in a poll by ICM for The Sun said she'll deliver a good Brexit deal.
Most respondents in a separate poll by ComRes for the Sunday Mirror and Independent opposed a second referendum on European Union membership, and almost half said there's no need for an early general election.
Before it's here, it's on the Bloomberg Terminal.
LEARN MORE