BOE's Vlieghe Says Post-Brexit U.K. Needs Range of Stimulus
by
MPC can 'look through' higher inflation, Vlieghe says in FT

Policy makers have signaled they'll probably ease on Aug. 4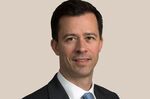 Gertjan Vlieghe, who was alone in voting for an interest-rate cut at the latest Bank of England meeting, said the U.K. needs a range of stimulus to combat the impact of its decision to quit the European Union.
"The precise implications for the economy are uncertain, although the general direction of travel is likely to be lower growth and higher inflation for a period, as a result of weaker demand, weaker supply and a lower exchange rate,"  Vlieghe wrote in an opinion piece published on the Financial Times website late Sunday. "Early indications from business and consumer surveys, as well as the findings of the BOE's own agents, support that assessment."
While policy makers voted 8-1 at their meeting last week to keep the key rate at a record low, minutes showed most of them expect monetary policy to be loosened at their Aug. 4 gathering, when they will have new forecasts. The decision to hold the rate surprised investors, who had priced in more than an 80 percent chance it would be lowered.
BOE Chief Economist Andy Haldane said on Friday that he will push for stimulus next month, while Monetary Policy Committee member Martin Weale may offer his analysis of the outlook for the economy when he speaks in London later on Monday.
"I favored an immediate interest-rate cut, to be supplemented by a package of additional measures in August," Vlieghe wrote in the FT. "What precisely that package should look like will have to be discussed over the course of the next three weeks."
He said that the BOE's Monetary Policy Committee can "look through" short-term effects "as long as medium-term inflation credibility is maintained. But he added that inflation expectations beyond the next few years have fallen since the referendum from "already low levels."
So far the central bank hasn't said what measures will best aid the economy. Economists at JPMorgan predict a package in August including a 50 basis-point cut in the key rate, taking it to zero, a 75 billion-pound ($99 billion) increase in quantitative easing and the announcement of some credit-easing measures.
Vlieghe said he'd been considering the need for action even before the Brexit decision, since the economy had been "slowing for some time" and he worried that the "economic outlook might still not be quite strong enough to return inflation to its 2 percent target over a reasonable period of time."
"We have not been providing as much stimulus as you might think, because interest rates are not all that far below this lower neutral level," he said. "Debt deleveraging, changing demographics and a widening of the income distribution across the population might be some of the factors behind this low interest-rate environment, and these factors are likely to persist for years."
Before it's here, it's on the Bloomberg Terminal.
LEARN MORE