Nice Killer's Motives Remain Mystery as Investigators Seek Links
By
Islamic State calls Bouhlel 'soldier'; doesn't claim plotting

Interior minister says Bouhlel radicalized 'very quickly'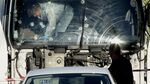 Until he murdered 84 revelers on Bastille Day, Mohamed Lahouaiej-Bouhlel's most serious run-in with the law was throwing a wooden plank during an argument with another driver.
"There was nothing in his past that could have foreseen the acts he's now accused of," Justice Minister Jean-Jacques Urvoas said on RTL Radio.
The 31-year-old Tunisian with French residency was killed by police after he drove a rented 19-ton refrigerator truck for about 2 kilometers (1.2 miles) down Nice's seafront Promenade des Anglais, killing those 84 people and seriously wounding more than 50. Interior Minister Bernard Cazeneuve said Bouhlel was radicalized "very quickly," without providing more details.
Islamic State's news agency called the man who carried out the Nice attack one of its "soldiers," but even the radical group stopped short of claiming it had organized the attack. It said, without using his name, he'd "carried out the operation in response to calls to target citizens of coalition countries fighting Islamic State."
Paris anti-terrorism prosecutor Francois Molins told reporters Friday that Bouhlel wasn't on any list of radicalized individuals and investigators were unaware of any contacts with terror groups. The killings are being treated as terrorism because "this sort of action is the sort of action advocated by terrorist groups on online media," he said.
Islamic State's spokesman in May called for followers to carry out attacks in enemy countries during the month of Ramadan, one of many calls the group has made for followers who can't travel to Iraq and Syria to cause mayhem at home.
'Leaderless Resistance'
"These operatives act according to the principles of leaderless resistance, planning and launching attacks independently rather than at the core's direction," risk-advisory group Stratfor said in a July 14 report. During Ramadan, which ended July 5, there were also killings in Istanbul, Dhaka, Baghdad, and Orlando, Florida.
Prime Minister Manuel Valls said on France2 television Friday that "one way or another" Bouhlel was acting on behalf of Islamic State, and it was up to investigators to find out how.
At the same time, Cazeneuve was saying on TF1 that investigators have found no contact with Islamic groups. A government official who attended an emergency Cabinet meeting today said no links have yet been found, though investigators haven't completed searching his phone.
Bouhlel was born Jan. 3, 1985, in Tunisia, and was married with children, according to Molins, the prosecutor. He received his French residency papers in January 2008, according to newspaper Le Figaro.
He lived in a rented apartment in a poorer eastern district of Nice and worked as a delivery driver. Neighbors interviewed by French media describe a keen body builder who kept to himself, with some describing him as quiet, and others as aggressive, unpleasant and paranoid. They all agreed he wasn't religious. He drank beer, didn't fast, and wore shorts.
Molins said he was known to the police for domestic violence and other acts of violence. He never served time in jail, having received a six-month suspended sentence in March in the January wood-throwing altercation.
Bouhlel had a 7.65mm automatic pistol that he fired on police before they shot him. The two assault rifles he had in the truck were both replicas, Molins said. While possessing assault rifles is illegal in France, they are available on the black market and the attackers in January and November's attacks in Paris procured them without much trouble.
Hard to Detect
Bouhlel is the hardest sort of killer to detect, because they have no contact with others and give no indications of their plans, said Matthew Henman, head of IHS Jane's Terrorism and Insurgency Center.
"When you have an organized group being directed, there are opportunities for the security forces to monitor and survey, and prevent them before they take place," he said Friday on Bloomberg TV. "But when you have someone alone you don't have those electronic communications. Individuals are nearly impossible to detect beforehand."
Cazeneuve said, "This is a new type of event that shows the extreme difficulty of anti-terrorist efforts."