Erdogan Urges U.S. to Hand Over Cleric Blamed for Coup Attempt
by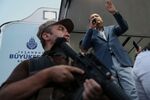 Turkey's President Recep Tayyip Erdogan on Saturday called on the U.S. to extradite an Islamic cleric accused by Turkish authorities of being the ringleader behind an attempted military coup less than 24 hours earlier.
Turkey has long sought action against Fethullah Gulen, who's been living in the U.S. for more than 15 years, Erdogan told a crowd of supporters in Istanbul. He addressed his American counterpart, Barack Obama, directly: "Dear Mr. President, I told you this before. Either deport Fethullah Gulen or return him to Turkey. You didn't listen. I call on you again." He said Turkey has been preparing a formal application with detailed information about Gulen's illegal activities.
Gulen, who's based in Pennsylvania, denied any connection with the coup, which petered out on Saturday morning after a night of violence in the country's two biggest cities, Istanbul and Ankara. Turkey's government says followers of the cleric who carried out the attempt. Thousands of military officers and members of the judiciary have been arrested or fired, and officials are promising to extend the purge.
Earlier on Saturday, Secretary of State John Kerry said the U.S. anticipates having "some discussion" with its NATO ally Turkey about extraditing Gulen. "We invite the government of Turkey, as we always do, to present us with any legitimate evidence that withstands scrutiny, and the United States will accept that and look at it and make judgments about it appropriately," Kerry said.
Before it's here, it's on the Bloomberg Terminal.
LEARN MORE