Yuan Climbs Most in a Week as China Fundamentals Seen Improving
Bloomberg News
GDP rise will help make yuan assets more attractive: Mizuho

Authorities unlikely to actively seek declines, Natixis says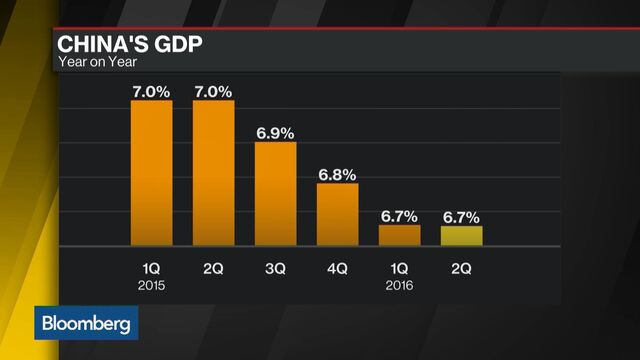 China's yuan strengthened the most in a week as gross domestic product growth trumped forecasts and a surge in new credit boosted confidence that policy makers are looking to support the world's second-largest economy.
Aggregate financing, the broadest measure of new funding, more than doubled in June, while new yuan loans beat estimates. GDP expanded 6.7 percent in the April-June period, compared with the median estimate of 6.6 percent, according to data released Friday. Figures earlier this month showed factory-gate deflation easing for the sixth month in a row in June, while exports declined less than analysts forecast.
"The GDP data show that fundamentals are stabilizing," said Ken Cheung, an Asian currency strategist at Mizuho Bank Ltd. in Hong Kong. "This should make yuan-denominated assets more attractive and encourage some capital inflows. The big picture is that China's economic growth remains stable."
The onshore yuan rose 0.11 percent to 6.6814 a dollar as of 5:23 p.m. in Shanghai, according to China Foreign Exchange Trade System prices. The currency traded in Hong Kong's overseas market reversed earlier losses to climb 0.03 percent. The People's Bank of China strengthened the yuan's daily fixing, which restricts onshore moves to 2 percent on either side, by 0.06 percent.
Exports Effect
The yuan's 3 percent drop against the dollar in the second quarter had little positive impact on economic growth, and Chinese authorities have little incentive to lower the currency's value by much, said Zhou Hao, an economist at Commerzbank AG in Singapore. Policy makers aren't likely to "actively depreciate" the exchange rate in the second half, said Iris Pang, senior economist for Greater China at Natixis SA in Hong Kong.
Other data released Friday show industrial production climbed 6.2 percent in June from a year earlier, compared with 6 percent in May and economists' estimates for 5.9 percent. Retail sales rose 10.6 percent last month, while fixed-asset investment slowed to 9 percent in the January-June period.
"China's new loan growth is very strong, which shows they want to use low lending rates to stimulate private investment," said Peter So, co-head of research at CCB International Securities Ltd. in Hong Kong. "But the effect doesn't seem that obvious."
Bond Yield
Government bonds gained for the day, with the 10-year yield dropping two basis points to 2.83 percent. The benchmark 10-year yield climbed four basis points in the last four days and is set to break a five-week run of decreases.
"Overall, the data are slightly better than the market expected," said Chen Peng, a Shenzhen-based analyst at Fortune Securities Co. "Loans and financing data are especially good. This would reduce the chance of reserve ratio or interest rate cuts in the near term."
— With assistance by Tian Chen
Before it's here, it's on the Bloomberg Terminal.
LEARN MORE