U.S. ELECTION WRAP: Nice Attack Puts Anti-Terror Plans in Focus
The presidential race once again turns to the question of how to defeat Islamic State.
By , , and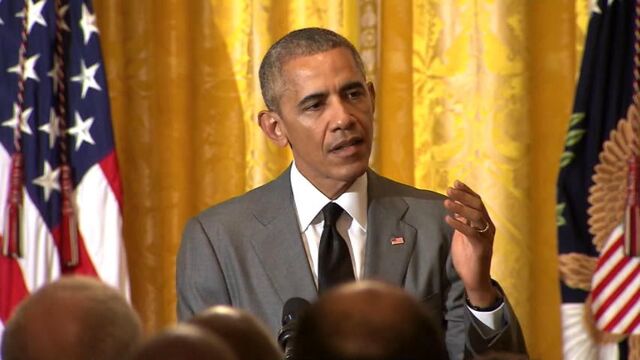 The Bastille Day attack in the French Riviera town of Nice rekindled the debate in the U.S. presidential race over how to defeat Islamic State, with Hillary Clinton and Donald Trump each talking about NATO's role.
U.S. needs to bolster its alliances and "I include NATO in that," Clinton told Fox News' Bill O'Reilly last night
Clinton said she's long called for NATO to be modernized to take on the global terror threat
She balked at O'Reilly's suggestion that U.S. and NATO troops invade Raqqa to take out IS headquarters

That is "not the most effective way" to proceed, Clinton said, stressing instead the current course of air attacks, taking back territory in Iraq and killing IS leaders
Clinton said she would "intensify" coalition efforts against IS; said there needs to be an "intelligence surge," because some European nations still aren't sharing enough 
This is a "different kind of war," and winning it is "going to require working with other people": Clinton

Trump told O'Reilly that as president he would go to Congress seeking a war declaration

"This is war," he said. "We are dealing with people without uniforms"

U.S. is spending a "fortune" on NATO and should "at least get something out of it," he said

"Getting rid of ISIS and getting rid of this cancer that we are watching all over the world, that certainly would be a good thing for NATO to be involved in"

Trump aides may be thinking that the GOP billionaire should go overseas before the election, CNN political analyst David Gergen said

"He needs to get himself better informed and on top of these issues," so when he calls for a declaration of war it's coming from a more "thoughtful" place: Gergen

Trump campaign chairman Paul Manafort declined to comment on whether his boss agrees with Newt Gingrich's proposal on Fox News last night to screen U.S. Muslims for Sharia beliefs and deport those who embrace the Islamic religious legal system

"You'll have to ask Donald Trump that," Manafort told CNN this morning

Gingrich backtracked on his comments in a Facebook Live chat today, saying, "With an American citizen, deportation is impossible"

He instead called for jailing people for sedition

The Atlantic's Jeffrey Goldberg writes that Gingrich, a potential secretary of state in a Trump administration, was misguided in his initial comments

"ISIS, and its fellow travelers, will ultimately be defeated only by Muslims themselves, including Muslims who adhere to Islamic law. Muslims who meet with ISIS disapproval—which is to say, most Muslims—are the constant targets of murderous Islamists," Goldberg wrote. "The countries that are fighting ISIS include several Muslim-led, Muslim-majority states, and include states that are governed by Islamic law."

Click here to get the U.S. Election Wrap by e-mail every afternoon

VEEPSTAKES WINNER
After postponing because of the Nice attack an event planned today to unveil his VP pick, Trump opted to announce on Twitter what was widely reported yesterday—that Indiana Gov. Mike Pence will be his running mate

"News conference tomorrow at 11:00 A.M.": Trump

Bloomberg's Al Hunt calls Pence the "perfect not-Trump running mate"
Bloomberg's Sahil Kapur spotlights the history of differences between Trump and Pence on issues including free trade and banning Muslims; he also looks at how Trump's erratic style was on full display in the VP search
In picking Pence, Trump has added a seasoned fundraiser who could bring fresh energy and new donors to a finance operation lagging far behind that of Clinton's, Bloomberg's Bill Allison reported
Minutes after Trump's VP announcement, Clinton released an anti-Pence video

The Indiana governor was "willing to shut down Indiana's economy to allow discrimination against LGBT people," is "bad for women's health" because he wants to defund Planned Parenthood and "bad for immigrants" because he's a long-time opponent immigration law overhaul

As a congressman in 2008, Pence voted twice against then-President George W. Bush's financial bailout plan, Bloomberg Intelligence analyst Nathan Dean wrote in note today

Pence likely would push Trump to back legislation replacing Dodd-Frank's orderly liquidation authority, OLA, with a bankruptcy-like process
While it's unlikely Republicans would have the Senate votes post-election to alter OLA, Pence's views might curb any future bailout if Trump wins White House, Dean wrote

Indiana already has produced five politicians who ascended to the vice presidency, but the experience for many of them in office was less-than-stellar, Bloomberg's Don Frederick notes

DEMOCRATIC VEEPSTAKES SHUFFLE?
Democratic Rep. Bobby Scott of Virginia would likely be frontrunner to replace Sen. Tim Kaine in Senate should Kaine be tapped to be Clinton's running mate, a pair of political experts told Bloomberg BNA

POLLS
Clinton leads Trump in four swing states, according to WSJ/NBC/Marist polls

Clinton leads by 6 ppts in N.C., 7 ppts in Fla., 8 ppts in Colo., 9 ppts in Va., according to survey

CONVENTIONS
A key Republican National Convention panel crushed a long-shot attempt by rogue delegates to block Trump's nomination in Cleveland next week, Bloomberg's John McCormick and Mark Niquette report

"#NeverTrump is never more," Trump tweeted today

GOP convention organizers have asked Las Vegas billionaire Sheldon Adelson for a $6 million check to cover a fundraising gap, Politico reported

Trump campaign chairman Paul Manafort told Fox News he doesn't know whether report is true

Rabbi Haskel Lookstein, a N.Y.-based modern Orthodox rabbi who oversaw Ivanka Trump's conversion to Judaism, has withdrawn from speaking at the convention in Cleveland, the Forward reported
Haley Barbour, a former Republican National Committee chairman and ex-Miss. governor, told MSNBC next week's GOP gathering will be a "different" kind of convention

Voters are seeking "big, big change" in Washington, so maybe a different kind of national convention is the "smart thing to do," Barbour said in response to question on what it means that some Republicans are opting to skip participation in the event, including former GOP presidential candidate and Ohio Governor John Kasich

Kasich does plan to address the NAACP national convention in Cincinnati that Trump is skipping, AP reported

Kasich has declined to endorse Trump

The Democratic National Convention Committee announced headlining speakers for the July 25-28 event in Philadelphia;

First Lady Michelle Obama, Sen. Bernie Sanders to speak on Monday, July 25
Former President Bill Clinton on Tuesday, July 26
President Obama and Vice President Biden on Wednesday, July 27
Hillary and Bill Clinton's daughter Chelsea to speak Thursday, July 28, same night her mother will deliver her nomination acceptance speech




ENDORSEMENTS/NONENDORSEMENTS
Civil rights activist Cornel West, who previously backed Sanders in the Vermont senator's challenge to Clinton, said he's now endorsing Green Party candidate Jill Stein

"This November, we need change. Yet we are tied in a choice between Trump, who would be a neo-fascist catastrophe, and Clinton, a neo-liberal disaster. That's why I am supporting Jill Stein," West wrote yesterday in a Guardian op-ed

Trump and Clinton both have views on economy that are "diametrically opposite" from those of Business Roundtable, its president, ex-Michigan Governor John Engler, told New York Times

ETC
Trump should improve his temperament, U.S. House Speaker Paul Ryan told NPR
Trump likely is going to "endeavor to try" to change his tone and behavior in the general election: Ryan
Construction companies including CalPortland and Cemex are poised to benefit if Trump is elected and succeeds in goal of building wall along U.S. border with Mexico, Bernstein analysts led by Phil Roseberg wrote in a note to clients

U.S.-Mexico border is 1,989 miles

CONGRESSIONAL RACES
IN-SHAKEUP: Trump selecting Pence as his vice-presidential running mate has the potential to re-make Indiana politics
Pence, under state law, can't run for two offices, so he today gave up his gubernatorial re-election bid

GOP Reps. Todd Rokita and Susan Brooks, in turn, withdrew from their re-election contests just before today's deadline and will seek to fill the vacancy created by Pence's decision
Democratic nominee for governor is ex-state House Speaker John Gregg, who lost 49%-47% to Pence in 2012
GOP officials in Rokita and Brooks's districts will also have fill the vacancies caused by their campaign announcements; Rokita and Brooks could seek to succeed themselves on the ballot and run for re-election if they're not selected by party leaders to replace Pence as the gubernatorial nominee
Rokita's IN-04 gave Mitt Romney 61% in 2012 presidential election and includes Lafayette, Kokomo, and some suburbs west of Indianapolis
Brooks's IN-05 voted 58% for Romney and includes part of Indianapolis and some of city's northern suburbs

The state's politics already had been roiled by the last-minute decision earlier this week by Democratic ex-Sen. Evan Bayh to reclaim his old seat, which Republican Dan Coats is giving up

Bayh's decision made Ind. Senate race as one to watch for a possible Democratic takeover

FL-SEN: Senate Majority PAC, Democratic super-PAC, will begin $1m ad campaign next week aiding Rep. Patrick Murphy, according to release and Washington Post report

The super-PAC is run by advisers to Senate Minority Leader Harry Reid, who supports Murphy and has feuded with Murphy's main primary opponent, Rep. Alan Grayson
Senate Leadership Fund, Republican super-PAC aligned with Majority Leader Mitch McConnell, has begun $1.5m spending campaign against Murphy with this TV ad
Florida First Project, super-PAC supporting GOP Sen. Marco Rubio's re-election bid, reported spending $738k against his main primary opponent, developer Carlos Beruff

Pro-Rubio Super-PAC received $100k last month from Conservative Solutions PAC, which aided Rubio's losing White House bid, and $100k from Vero Beach retiree Warren Schwerin

Beruff's TV ad attacking Rubio takes "quite a few liberties" and its criticisms on immigration policy "miss the mark," according to ABC Orlando
Primary is Aug. 30

OH-SEN: Republican Sen. Rob Portman released TV ad promoting his role as co-author of measure to combat opioid/heroin abuse

Senate cleared measure for Obama's signature July 13 on 92-2 vote
Democrats including Portman's opponent, ex-Gov. Ted Strickland, have noted measure authorizes but doesn't appropriate money for treatment/recovery programs

PA-SEN: Women Vote! Super-PAC released TV ad featuring breast cancer survivor who says she's "outraged" that GOP Sen. Pat Toomey voted last year to "defund Planned Parenthood" and was "willing to shut down the government" over issue

Toomey, who is anti-abortion, would redirect federal funding for Planned Parenthood to other organizations that provide women's health services

Women Vote! associated with Emily's List, which aids Democratic women who support abortion rights, including Toomey opponent Katie McGinty
WI-SEN: GOP Sen. Ron Johnson's campaign released TV ad with images of recent mass killings in Paris, Brussels, Istanbul, San Bernardino, and Orlando

Ad refers to "Islamic terrorists slaughtering innocents" and calls attention to Democratic ex-Sen. Russ Feingold's lone "no" vote against 2001 anti-terrorism law known as Patriot Act
Feingold campaign statement said Johnson is "so desperate that he keeps resorting to fear mongering in the wake of tragedy"

GA-03: Drew Ferguson out-raised Mike Crane by $503k to $266k in nine-week period leading up to key July 26 GOP primary, according to FEC filings

Ferguson, dentist and former small-town mayor, received donations from American Dental Assn, House Majority Leader Kevin McCarthy, retiring GOP Rep. Lynn Westmoreland
Crane's donors included House Freedom Caucus, group of House conservatives who have clashed with party leaders
U.S. Chamber spending $650k to aid Ferguson, including with TV ad narrated by Westmoreland
Click here to get the U.S. Election Wrap by e-mail every afternoon
Before it's here, it's on the Bloomberg Terminal.
LEARN MORE