Photographer: Gokhan Tan/Getty Images
business
Payback Time in Turkey as Coup Survivor Erdogan Cracks Down
By , , and
Thousands of army officers, judges snared in wave of arrests

U.S.-based preacher Gulen blamed as Turkey seeks extradition
Turkish President Recep Tayyip Erdogan ordered massive reprisals for the failed attempt to oust him in a coup, with thousands of army officers and judges swept up in a nationwide wave of arrests.
The resurgent leader, whose grip on power seemed to have been shaken just a day earlier, also pressed the U.S. to extradite the cleric he accuses of being the ringleader. Well past midnight, supporters of Erdogan's government were celebrating in city centers that had been engulfed in bloody gun battles and airstrikes the previous night.
Surviving the plot gives Erdogan, the Islamist-rooted politician who's become Turkey's most dominant leader since the republic's secular founder Mustafa Kemal Ataturk, more ammunition to crack down on his opponents. The president has already drawn charges of growing authoritarianism for suppressing critical voices in the judiciary, media and academic and cultural life.
In pictures: The Latest Key Images From Turkey
As the coup attempt evaporated, leaving some 200 people dead, Erdogan blamed followers of U.S.-based Islamic preacher Fethullah Gulen, his one-time ally. "They will pay a heavy price for their treason," he said.
'Utterly False'
Erdogan told a crowd of supporters in Istanbul later on Saturday that the U.S. must agree to extradite Gulen to its fellow NATO member. "Dear Mr. President, I told you this before," he said, addressing his American counterpart Barack Obama. "Either deport Fethullah Gulen or return him to Turkey." Labor Minister Suleyman Soylu went further, saying that the U.S. is "behind this coup" as long as it shelters the Pennsylvania-based cleric.

Gulen denied any connection with the uprising, and there was no additional information to cast light on the motives of the rebels. U.S. Secretary of State John Kerry said the U.S. would help Turkish authorities to investigate the plot, and consider any evidence that was presented.
But in a phone call later on Saturday, he warned his Turkish counterpart that "public insinuations or claims about any role by the United States in the failed coup attempt are utterly false and harmful to our bilateral relations," according to the State Department.
For a QuickTake explainer on Fethullah Gulen, click here.
Those killed during the attempted coup included civilians whose cars were crushed by tanks, soldiers who joined the putschists, and policemen who fought them. In raids across Turkey on Saturday, senior generals were among more than 2,800 military personnel arrested. The purge extended deep into the judiciary, with thousands of judges and prosecutors fired and arrest warrants issued, including for members of the Constitutional Court, the nation's top tribunal.
Parliament held an extraordinary session in Ankara, and the speaker read out a joint statement from all four parties in the legislature condemning the coup. Defense Minister Fikri Isik said that while the military takeover has been thwarted, and the whole country is under government control, it's too early to say that the threat has disappeared.
'Erdogan's Grip'

Erdogan served more than a decade as prime minister before he was elected president. He's trying to turn his new post, a traditionally ceremonial role, into the engine of government, in the face of widespread opposition to the plan.
"Through putting down this coup, Erdogan's grip on power will be further enhanced," said Timothy Ash, a London-based strategist at Nomura International Plc. "He has yet again proven his invincibility."
Still, the attempted coup risks fueling more instability in a NATO member that's already entangled in the war in neighboring Syria as well as a conflict with Kurdish separatists at home. It also threatens to unbalance an economy that's dependent on foreign capital flows to offset an entrenched trade deficit.
The lira plunged as much as 6 percent against the dollar in the first hours of the army intervention, as tanks rolled through the streets of Ankara and Istanbul while warplanes and helicopters circled above them. Trading in stocks and bonds had already halted for the day.
'Market Distress'
The recent pickup in flows of foreign cash into Turkey "will now surely reverse, causing inevitable market distress," Michael Howell, managing director of CrossBorder Capital, said in an e-mail.
Since 1960, Turkey has experienced at least three army-led takeovers. Erdogan's Islamist-rooted AK Party government, which came to power in 2002, made it a priority to curb the military's political influence, and hundreds of officers were jailed in earlier purges. Before their uprising petered out, the coup leaders said in a nationwide broadcast that the president and the ruling party had undermined democracy and the country's secular system.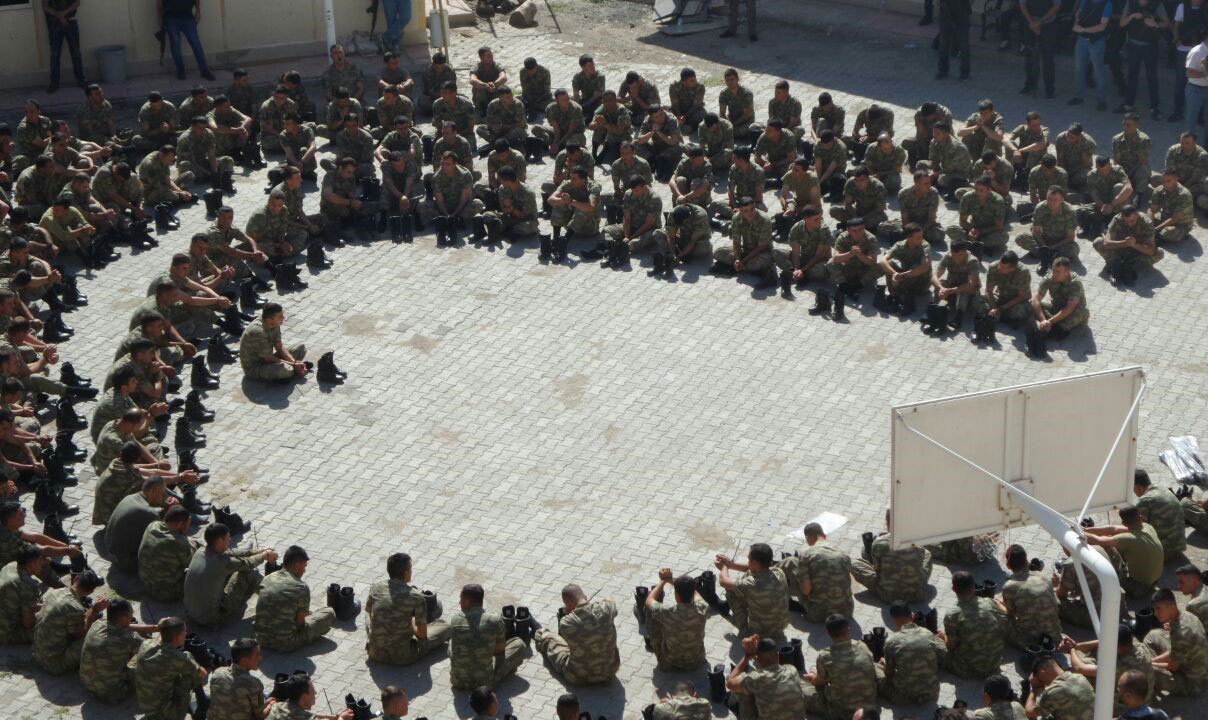 Turkey's NATO and European allies, including the U.S., have often been critical of Erdogan but they were unanimous in condemning the coup attempt and expressing support for his government. Turkey has played a part in operations against Islamic State in Syria and Iraq, though not always to the extent the U.S. wanted. It's also sheltering almost 3 million refugees from those countries, and reached a deal with the EU to halt the flow of migrants further west.
A prolonged reckoning with the Gulenists may undermine Turkey's ability to perform those roles, and also dim the prospects for investors.
Prime Minister Binali Yildirim branded Gulen a "gang leader" during a press conference in Ankara, while deputy premier Nurettin Canikli said the government would step up its hunt for the cleric's followers. "Even if they went into the tiniest veins of the state, they will be purged," he said.
Erdogan and Gulen, once allies, fell out three years ago when Erdogan accused Gulen of being behind a corruption probe that threatened his government, and authorities subsequently removed thousands of police and judiciary officials said to be linked to the preacher.
Once Allies
Whenever crisis has struck, Erdogan's ability to mobilize the streets has helped give him the upper hand, and he displayed it again as the coup attempt unfolded. Shortly after the news broke, a defiant president urged the public to take to the streets and public squares in resistance. Mosques echoed Erdogan's call from their minarets, and anti-coup crowds gathered in Istanbul and Ankara, where the bloodiest fighting occurred, and other cities.
Dawn revealed extensive damage to buildings including parliament, the presidential palace and military bases, caught up in the overnight fighting or targeted by helicopters and warplanes from the rival factions.
The tide had turned by the time Erdogan arrived in Istanbul in the early morning. In a symbolic surrender, about 50 rebel soldiers who had been blocking a bridge across the city's Bosporus strait were shown on television leaving their tanks and armored carriers with hands raised.
Other participants attempted to flee. Greek police said they had arrested eight people after a Turkish army helicopter landed in northern Greece. Officials in Athens said they'll respond rapidly to Turkish demands for extradition, but only after due legal process.
— With assistance by Isobel Finkel, Glen Carey, Mike Dorning, Benjamin Harvey, and Nick Wadhams
Before it's here, it's on the Bloomberg Terminal.
LEARN MORE