Trump Yet to Reschedule Running-Mate Reveal After France Strike
Signs pointed to Indiana Governor Mike Pence as the choice, while some Republicans cautioned that the mercurial Trump could change his mind.
By and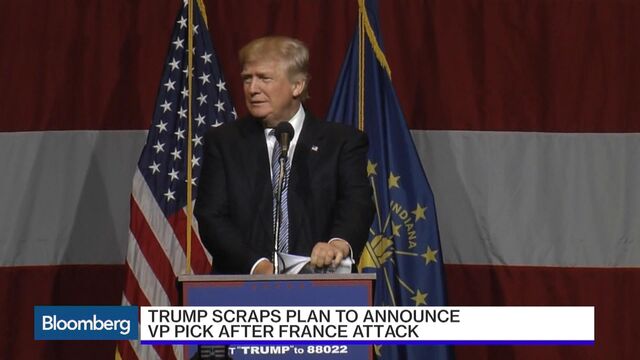 Anticipation -- and confusion -- ran high Friday surrounding Donald Trump's running-mate choice after he scrapped a planned announcement in light of a deadly terrorist attack in France.
Trump on Thursday said he'd announce his running-mate choice at the appropriate time as signs pointed to the selection of Indiana Governor Mike Pence.
Trump campaign chairman Paul Manafort said Friday in TV interviews that Trump was now planning a weekend announcement before the campaign moved to Cleveland for the Republican National Convention that starts there Monday, and that he didn't think Trump's choice would be officially revealed anytime on Friday.
CNN later reported, citing an unidentified source, that the Trump campaign was in fact planning to announce Pence's selection Friday, then for Trump and Pence to campaign together for the first time Saturday in Bedminster, New Jersey.
Representatives for the two men didn't immediately offer clarification.
One person with direct knowledge said Trump had settled on Pence, who was seen arriving in New York Thursday afternoon. Trump had initially planned to announce his choice at 11 a.m. Friday at the New York Hilton Midtown hotel.
Cautionary Word
Other Republicans cautioned throughout the day Thursday that the mercurial Trump could change his mind. On Fox News on Thursday, Trump said he had not made his "final, final decision" about his running-mate pick. 
"I think Mr. Trump has reached a decision, but he isn't prepared to announce it," Manafort said on Fox News the next morning. He said the delay wasn't due to second thoughts about Trump's choice, but to show respect for the victims of the France attack. 
The strike, which left at least 84 people dead and was labeled an act of terrorism by French President Francois Hollande, was just the latest violent event to roil the U.S. presidential race.
It follows American unrest over recent police killings of black men, the sniper killings of five Dallas police officers, and attacks by Islamic State sympathizers in Orlando, Florida, and abroad -- all highlighting intractable domestic and international issues that Trump or presumptive Democratic nominee Hillary Clinton would face as president.
Never-Trump 'Nevermore'
Trump got one piece of good news late Thursday as a Republican committee setting rules for the party's upcoming convention squelched an effort by anti-Trump forces to free delegates to vote for whomever they please and not necessarily the presumptive nominee.
"#NeverTrump is never more," Trump proclaimed on Twitter Friday.
The tensions played out even before the panel grapples with the question of whether a so-called minority report should be issued voicing opposition to Trump's nomination. That quest appears likely to come to a head Monday when the report could be delivered on the first day of the full convention, if 28 votes for it can be secured from the committee.
Unless the full convention accepted the minority report, however, the delegates would remain bound. A bid to change the rules could always be initiated from the floor of the convention, but the hurdles for passage there are significantly higher.
Indiana Scramble
Thanks to the rescheduling of the announcement, Pence found himself facing a potentially pressing deadline: he must decide whether to relinquish his spot on Indiana ballots before noon Friday in order for the Republican Party to be able to choose a replacement.
"This creates an enormous complication," said James Bopp, an Indiana conservative activist and 30-year lawyer who specializes in election law. "Any vacancy on the ballot that occurs before noon can be filled by the party. If the vacancy is after noon on Friday, the vacancy cannot be filled by the Republican Party. Absolutely cannot be filled."
Bopp described a cascading effect of confusion because Indiana does not allow candidates to run for two offices at the same time. If Pence does not withdraw by the deadline, then another elected Republican cannot withdraw in time to fill his spot on the ballot. And another Republican couldn't fill the resulting spot that opened lower down on the ticket. 
Trump's delay was creating a nervous Friday morning for several Republican politicians in Indiana, said Craig Dunn, the state party's 4th District chairman. 
If Pence withdraws as the Republican nominee for governor, Dunn said he expected at least one state and two federal officeholders will seek to replace him. Dunn said he expected a crowd to gather outside the Indiana secretary of state's office Friday morning with candidates holding their withdrawal papers, waiting and watching for the governor's campaign to file before they act. 
For a candidate to withdraw a nomination and be reappointed by the party within 30 days is much easier for the governor to do than for a lower-level office holder, he said.
"There's just a lot of angst up and down the line," Dunn said.
Andrew Lang, a spokesman for the Indiana secretary of state's office, confirmed that Pence did not file to withdraw as a gubernatorial candidate Thursday. If Pence withdrew, the party could name him to fill the vacancy on the ballot if desired, Lang said. 
Trump "will honor his word" about whatever running-mate choice he makes, Manafort said on CNN Friday.
Pence was expected at a National Governors Association meeting in Des Moines, Iowa, on Friday and Saturday. His staff hasn't called to cancel plans to attend, so organizers are still expecting him, said Elena Waskey, a spokeswoman for the association.
Midwestern Conservative
Pence is Trump's pick and is dropping his re-election bid in order to join Trump's ticket, the Indianapolis Star reported Thursday. The Capitol Hill newspaper Roll Call and other outlets also reported that Pence was selected or that Trump and Pence allies were strongly signaling so.
A representative for Pence didn't respond to requests for comment. Two Trump officials who asked not to be named said that Roll Call's report was not based on information from inside the campaign, but did not deny the report either.
Pence, 57, is a former U.S. representative who could help Trump, 70, boost his standing with social conservatives and in midwestern states where Trump aims to build a line of defense against Clinton. Trump and Pence have spent extensive time together on the campaign trail and with each other's families in recent days.
Pence lauded Trump after meeting with him Wednesday, saying it was humbling for his family to meet the next U.S. president. "We will not rest until we elect" Trump, he said on Twitter July 12. He hasn't always agreed with the candidate, though, blasting Trump's proposed temporary ban on Muslim immigration in December as "offensive and unconstitutional."
The reports of Pence's selection were greeted positively by Senator Jeff Flake, an Arizona Republican usually critical of Trump, who said that if the Pence news is true as he assumes, it's the best thing Trump has done. Flake hopes Pence can get Trump to change his positions and statements about Hispanics, he said. Trump's promise to build a wall on the U.S.-Mexico border to curb illegal immigration -- and his comments likening Mexican immigrants to rapists -- have turned off many Hispanic voters.
Pence was also complimented Thursday at the White House, where press secretary Josh Earnest noted the governor had been doing "important work with the administration to expand Medicaid in his state."
Short List
Another possible Trump running mate, former House Speaker Newt Gingrich, took questions in a Facebook Live broadcast Thursday afternoon and didn't confirm whether he was out of the running, but seemed to suggest it had come down to Pence and him.
New Jersey Governor Chris Christie was the third person believed to be on Trump's short list. "I'm a competitive person so I'm not going to say it won't bother me if I'm not selected," Christie said on MSNBC in an interview that aired Thursday. If not chosen, "I'll just go back to work," he said.
Christie-- whom Trump tapped earlier to lead his White House transition planning -- was pulled back into his home state's political mire on Thursday as one of his closest allies, David Samson, pleaded guilty to accepting a bribe from United Airlines, and Christie's onetime transportation commissioner, Jamie Fox, was charged with conspiring to commit bribery for his suspected role in the same scheme when he was a United lobbyist.
-- With assistance from Mark Niquette, Steven Dennis, Ben Brody, Alex Wayne, David Kocieniewski, David Voreacos, Angela Greiling Keane, and John McCormick.