The Anti-Cellphone Tech Used by Dave Chappelle, Louis C.K., and Guns N' Roses
Yondr offers a friendly way to lock up devices during concerts.
By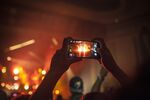 When Axl Rose and the other members of Guns N' Roses decided to end a 20-year hiatus in April at the Troubadour, a small Los Angeles club, they didn't want video from the secret show leaking online. That's no easy task when every smartphone-wielding fan wants to brag about being there with a post on social media.
For help, the band called Graham Dugoni, creator of a small case that locks phones away, preventing audience members from taking pictures and videos. Performers "want people to have a genuine experience, for fans to come to a show and enjoy the entire process and not be distracted," he says. The GN'R show "worked perfectly, no leaked footage," he says. Dugoni's two-and-a-half-year-old company, Yondr, leases cases for about 30 shows a week.

After designing the low-tech device, Dugoni sent specs to Asian manufacturers he contacted through Chinese online bazaar Alibaba. When fans enter a venue, they place their phone into a socklike pouch made of a wetsuit-type material. A lock at the top looks like the security tag retailers use on clothing. The locked-up phone still works; concertgoers feel it vibrate. To liberate the phone, a user must leave the performance area and tap the case on one of the wireless devices stationed at kiosks outside.
Comedians Dave Chappelle, Louis C.K., and Hannibal Buress have hired Yondr, as have musicians Alicia Keys, the Lumineers, and Prophets of Rage. Dugoni says the company typically handles shows with audiences of fewer than 2,000 people, but it did once provide the cases for a performance with 6,000 audience members, and it's been booked to handle events in venues that can hold as many as 15,000. "There is no size limit to what venue Yondr can be used for," Dugoni says.
Performers have tried to get people to pocket their phones for years. Peter Frampton does a short set at the start of his show just for photo opps, before announcing that people will be kicked out if they continue filming. Beyoncé and Adele have admonished fans midconcert for disrupting shows: "You can enjoy it in real life rather than through your camera," Adele said to a crowd in Verona, Italy, in May. Performers "are frustrated by it, anybody would be," says Christen Greene, who manages the Lumineers. She says Yondr worked well at a recent concert. Fans, allowed to hold on to the locked pouches, accepted it without incident. "You don't feel like you've lost a limb," she says.
Dugoni, a Duke University graduate who played pro soccer in Norway and now lives in San Francisco, leases the cases for about $2.50 each, depending on the size of the venue, and hires the people who dispense and collect them. He declines to detail the company's finances or investors but says that sales are rising 30 percent to 40 percent a month and that Yondr, which will have 15 full-time employees by the end of the summer, is profitable. Apart from concerts, school districts eager to get phones away from students are an additional, fast-growing customer base. "We get tons of inbound requests from parents," Dugoni says.
Fans may protest, but Geoff Steele, who runs the Gillioz Center for Arts & Entertainment in Springfield, Mo., and worked with Yondr at a recent Chappelle show, says efforts to keep smartphones out of live events will only increase. Apple recently received a patent for a technology to temporarily disarm cameras in certain settings. "Thirty years ago it was still OK to smoke in all these places," Steele says. "Then you saw the rise of people who wanted to do smoke-free shows."
The bottom line: Yondr's smartphone-locking pouches have been used at about 30 concerts a week so far this year.
Before it's here, it's on the Bloomberg Terminal.
LEARN MORE