Drinks
The Salty Dog Is an Effortless Summer Cocktail
The next entry in our 12 Cocktails of Summer series keeps it simple for sweltering days.
By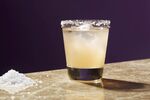 In the early 1960s, a Massachusetts company called Ocean Spray orchestrated a marketing push to make American consumers think of cranberries beyond the Thanksgiving dinner table. That led to the creation of a drink known as the Cape Codder (vodka, cranberry juice), which in turn birthed a whole genre of waspy cocktails, including the Madras (vodka, cranberry juice, orange juice), the Bay Breeze (vodka, cranberry juice, pineapple juice), the Sea Breeze (vodka, cranberry juice, grapefruit juice), and the Greyhound (vodka, grapefruit juice).
Which brings us to the Salty Dog, a classic tipple distinguished from the Greyhound by virtue of its salted rim, and that functions as the perfect liquid antidote to climbing temperatures.
Don't let the modest ingredient list fool you: This is a drink that belongs in every home bartender's repertoire. A cousin of the "New England highballs" described above (hat tip to cocktail authority and author Gaz Regan for the term), the Salty Dog is the kind of cocktail you can whip up in the midst of the inevitable summer multitasking—while you're making guacamole or steering the boat with the other hand, or when it's simply too damn hot to do anything more complicated. It has a sturdy, everyman appeal, a counterpoint to today's often overwrought "mixology." (Regan recalls making them in 1980s NYC heyday for both "secretaries at the U.N. and CEOs of major corporations.")
Like cranberry juice, grapefruit juice is naturally endowed with the balanced attributes that most cocktails strive to replicate with multiple ingredients: tang, tart, and sweetness. Vodka (or gin) supplies the heat, ice cools it down, and salt furnishes a lip-smacking, briny bite.
Ingredients:
2 oz vodka or gin
4 oz grapefruit juice
Kosher salt
Moisten the rim of a highball or rocks glass and press onto a plate of coarse salt. Add ice, vodka, grapefruit juice and stir.
Before it's here, it's on the Bloomberg Terminal.
LEARN MORE