Republicans in Cleveland Applaud Trump Pick of Mike Pence
Haley Barbour compares Pence to Mike Huckabee, in terms of personality and appeal to social conservatives.
By and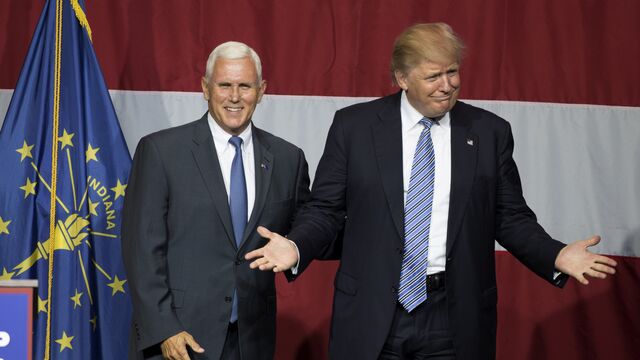 Republican delegates and party leaders gathering in Cleveland for next week's national convention praised Donald Trump's selection of Indiana Governor Mike Pence as his running mate, saying it would stabilize the ticket and calm social conservatives.

As thousands of Republicans prepare to descend on Ohio's second-largest city, the pick triggered high anticipation to see the duo together as a national ticket for the first time. Trump is seeking to unify the party at a four-day convention already marked by an effort to derail his nomination and the absence of notable Republicans who are cool to Trump's candidacy.
"I'm impressed with his conservative credentials and I think he will be a positive, stabilizing force for the Trump campaign," said Kris Warner, a national committeeman from West Virginia. "I think it's a very positive move."
Haley Barbour, a former Mississippi governor and past Republican National Committee chairman, called Pence "a very solid, well-regarded person" who would help calm the nerves of social conservatives who worry that Trump isn't conservative enough.
"He's very popular among religious conservatives," he said of Pence, before comparing him to a past presidential candidate and southern governor. "He sort of reminds me of Mike Huckabee in that regard."
Pence is generally viewed as having less of Huckabee's folksiness and knack for retail politics.

The choice of Pence, who served in the U.S. House of Representatives for 12 years, was a nod to social conservatives and to the Rust Belt, a region crucial to Trump's chances of victory. It adds significant government experience to Trump's outsider campaign for the White House.
An Indiana native and former radio talk-show host who became a born-again Christian in college, Pence has championed limited government and social causes, such as opposition to abortion, that appealed to conservatives and evangelicals.
"He appeals to a different side of the party," said Tom Mechler, chairman of the Republican Party of Texas. "It sends a very strong message for what's important to Trump. If there is a lingering concern, I think that is off the table as of today."
Pence has deep ties with conservative groups and a history of helping those entities that will generate more enthusiasm for Trump among conservative voters, said Morton Blackwell, a delegate from Virginia who backed Senator Ted Cruz of Texas in the primaries.
"It unquestionably will help him with conservatives across a broad spectrum," Blackwell said. "Mike Pence is a full-spectrum Reagan conservative on limited government, free enterprise, strong defense, and traditional values."
Blackwell said he's been a longtime friend and admirer of Pence and hoped that Trump would name him to the ticket. Before Pence decided to run for Indiana governor, Blackwell and former Representatives Dick Armey of Texas and David McIntosh of Indiana issued a public statement urging him to run for president, he said.
McIntosh is now president of the Club for Growth, an organization that's dogmatic about cutting taxes and reducing the size of government. It has feuded with Trump in the 2016 White House race but was the top contributor to Pence's congressional campaigns, according to the Center for Responsive Politics.
Adding Pence to the ticket should help encourage donors who were reluctant to back Trump to open their wallets, said Laura Walsh, a delegate from Maryland and a longtime Trump supporter. "He's a guy that brings in money," Walsh said. "Money that Trump has had difficulty raising."
Jeff Cardwell, Indiana's Republican Party chairman, said Pence brings assets that will balance the ticket and could help attract votes in Pence's neighboring Midwest states that Trump has targeted.
Pence has overseen a strong job-rate increase and a AAA government bond rating, on top of his years in Congress that include serving on the Foreign Affairs Committee, Cardwell said. Indiana's unemployment rate was 5.0 percent in May, down from 8.4 percent when Pence took office in January 2013.
"His record speaks well of his leadership,'' Cardwell said. "Pence brings a lot of value to the ticket."
Before it's here, it's on the Bloomberg Terminal.
LEARN MORE