QuickTake Q&A: France, Once Again, Is Target of a Killing Spree
Gregory Viscusi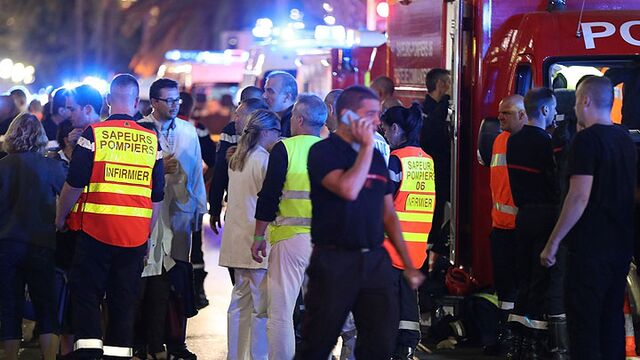 A July 14 attack in the French coastal city of Nice left at least 84 people dead and more than 200 injured, after a truck plowed into a late-night crowd of revelers celebrating the Bastille Day national holiday. Police shot and killed the assailant, Mohamed Lahouaiej Bouhlel, a 31-year-old Tunisian who had lived and worked in France. He had been known to the police because of theft and domestic violence incidents but wasn't on any list of radicalized suspects. Including the latest episode, terrorists have killed about 240 people in France in seven different attacks over the past 18 months.

1. Was this another attack by Islamic State?
Two days after the attack, Islamic State claimed that Bouhlel was one of its "soldiers" and had "carried out the operation in response to calls to target citizens of coalition countries fighting Islamic State." French authorities also described the attack as an act of Islamic terrorism. But there's no indication Bouhlel traveled for any kind of terrorist training. He wasn't viewed as having been a particularly devout Muslim, and he had brushes with depression and mental illness. His estranged wife says he used to beat her. He may have been a self-radicalized, lone-wolf terrorist who drew inspiration but not direction from the terror group.
2. Isn't Islamic State on the run?
Islamic State has been on the offensive outside of its Middle East stronghold as it loses ground in Syria and Iraq. The militant group has lost a quarter of its territory over the past 18 months. In response, it called on its followers to launch attacks around the world during the holy month of Ramadan, which ran through July 5. A gunman killed 49 at a gay nightclub June 12 in Orlando, Florida. Bombs at Istanbul's airport June 28 left 44 dead. A July 2 attack at restaurant in Dhaka left 22 dead, and car bombs in Baghdad killed at least 215 on July 3. Islamic State or its sympathizers took credit or were blamed for all those attacks.
3. Why has France been targeted?
There are two main reasons. France is the European country most involved in the fight against Islamic State -- it sent troops to Mali in 2013 to fight an al-Qaeda affiliate and joined U.S. air strikes in Iraq in 2014 before any other European country -- and also has Europe's largest population of North African immigrants, some of whom are poorly integrated and say they feel the sting of discrimination. At least 700 young French people have traveled to join Islamic State and another 380 potential radicals have been put under house arrest. Attacks on French soil may be aimed at forcing the French government to rein in its campaigns against the militants, said Natasha Underhill, a terrorism expert at Nottingham Trent University.
4. Why couldn't France prevent the attacks?
A lot of people are asking this, especially since the country has been under a state of emergency since Nov. 13 and just hosted the Euro2016 soccer championships without any serious scares. Christian Estrosi, head of the region around Nice, has criticized the government for not having had enough security in place last night. But police can't be everywhere, and lone-wolf attacks are notoriously difficult to track because the perpetrators can be radicalized without contacting any known networks, Underhill said.
5. How will this affect France's presidential election? 
Past attacks didn't move the dial much. Francois Hollande, who is seeking a second term in next May's election, received a bump in the polls after last year's attack on the satirical magazine Charlie Hebdo, but he soon went back to being the most unpopular president in French history. Anti-immigrant candidate Marine Le Pen's support hasn't changed much over the past two years either. The Nice attack might be different. In the immediate aftermath, members of the opposition center-right parties charged that French security failed to protect the crowd.
The Reference Shelf
Before it's here, it's on the Bloomberg Terminal.
LEARN MORE