business
Perella Weinberg's Vassalou Says Weak Banks Amplify Brexit Risk
By
Europe faces multiple threats, including fragile banks

That's coupled with low growth, low inflation, Vassalou says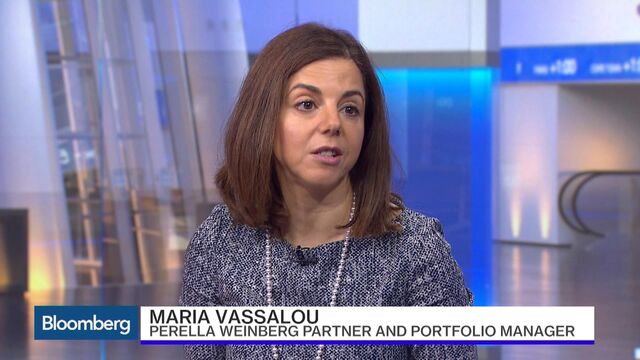 Risks from the U.K. decision to exit the European Union are amplified by the fragility of the continent's banks, said hedge fund manager Maria Vassalou.
"This is a very sensitive time for Europe, it's really an inflection point," Vassalou, who runs a macro fund at Perella Weinberg Partners, said in a Bloomberg Television interview Friday. "As we've seen since the financial crisis, banks have increased their capital buffer. However in Europe, these increases have been much lower than what we've seen in the U.S."
European bank stocks have been plunging this year as the companies work to meet capital standards and confront low interest rates. Italy has been in talks with European leaders about propping up lenders as the prime minister weighs injecting public funds into the system.
"Most of the European banks are still under-capitalized," Vassalou said, without naming individual firms. "That's why we see the pressures that we're seeing recently, and that's on top of the issues that they need to deal with -- Spain and Portugal having reached their budget deficit limits. And at the same time, we're going through a prolonged period of low growth and low inflation."
To read more about the European banking crisis, click here.
Rules that went into effect last year prevent government rescues unless shareholders and bondholders first take losses equal to 8 percent of a bank's liabilities. Vassalou, who joined Perella Weinberg in 2013 from a subsidiary of McKinsey & Co. to lead the PWP Global Macro Strategy, said that those guidelines could be excessive given the vulnerabilities of the lenders.
"The fundamentals are still very bleak, and there is a lot of uncertainty that Europe is facing," she said. "I'm not very optimistic about the risky assets in Europe."
Before it's here, it's on the Bloomberg Terminal.
LEARN MORE